A former aide of ex-UKIP leader Nigel Farage, George Cottrell, was detained by the FBI at Chicago's O'Hare airport last month on suspicion of money laundering, fraud and blackmail – specifically offering laundered money to drug cartel members and threatening to expose them if they did not pay a sum of money.
He was arrested on 22nd July as he tried to return to the United Kingdom with Mr. Farage after they had visited the Republican Party convention in Cleveland, Ohio.
George Cottrell, aged 22, is in custody in the United States and will face trial on twenty-one charges, including fraud, attempted extortion and money laundering. When the FBI arrested him, he was led away in handcuffs.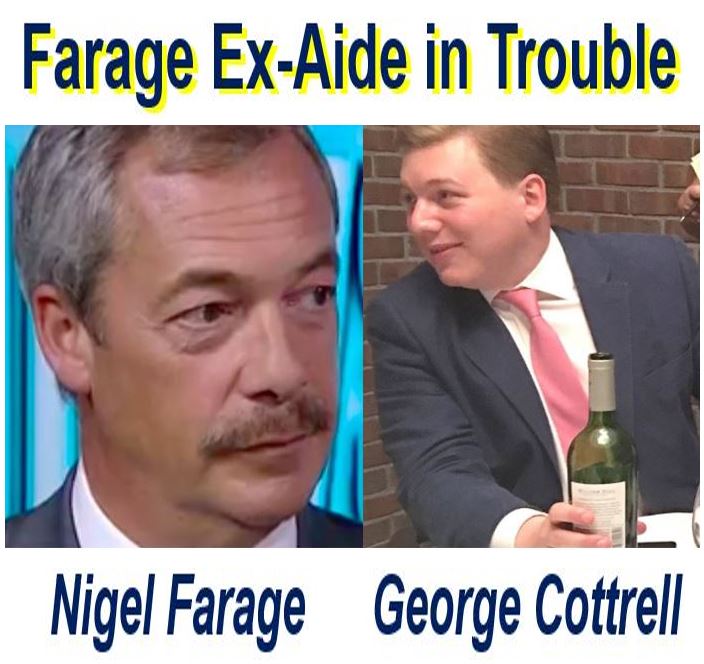 UKIP says the alleged crimes committed by Mr. Cottrell occurred before he was Mr. Farage's aide.
Advertised his services in the dark web
Mr. Cottrell is accused of peddling his services in adverts placed in the 'Dark Web' or 'Dark Net' (Darknet), where he announced himself as 'Bill'.
The dark web is the WWW content that exists on Dark Nets – overlay networks which use the public Internet, but require special software, authorizations and configurations to gain access. It is where dealers in illegal drugs, hackers, counterfeiters, fraudsters, money launderers and other criminals advertise their services.
---
---
Mr. Cottrell, who handled Mr. Farage's media enquiries and ran his office, was contacted by a gang of drug dealers/traffickers two years ago. He allegedly committed to launder money for them through several of his offshore accounts. According to court documents, their money would be washed clean in 'complete anonymity and security'.
However, it was a sting operation – the drug trafficking gang consisted of covert FBI agents pretending to be criminals in order to catch money launderers.
The Dark Web, also known as the Dark Net (or Darknet), is part of the Deep Web because you cannot get to it via Google, Yahoo and other search engines. However, it is something more – it is the anonymous Internet. Within this mysterious underbelly both web surfers and website publishers are entirely anonymous – a haven for criminals.
Undercover FBI agents set a trap
The undercover FBI agents met with Mr. Cottrell in Las Vegas, Nevada. According to the indictment, he blackmailed the supposed drug traffickers, and arrangements were made for them to send him £15,500 to prevent him from exposing them to the authorities. He also demanded £62,000-worth of bitcoins.
Mr. Cottrell's email accounts and bank accounts have been frozen, which means that Mr. Farage cannot get to his personal dairy.
---
---
According to court documents, Mr. Cottrell has had a serious gambling problem for several years, which suggests he is an irrational risk taker and a 'serious flight risk'. The judge denied bail.
Mr. Cottrell, who is the nephew of Lord Hesketh, a former Tory Party treasurer who joined UKIP in 2011, is believed to have a net worth of approximately £250 million. During the EU Referendum campaign, he worked for UKIP and Mr. Farage as a volunteer – free of charge.
Lord Hesketh, a former hereditary peer, worked for Margaret Thatcher when she was Prime Minister. He lost his seat in the Lords in 1999 following the House of Lords Act.
Mr. Cottrell's mother, Fiona Cottrell, is the daughter of another peer. In 1976, she was Penthouse 'Pet of the Month'.
A UKIP spokesman made the following comment regarding Mr. Cottrell and his arrest:
"George was an unpaid and enthusiastic volunteer for the party over the period of the referendum. We are unaware of the details of the allegations excepting that they date from a time before he was directly involved in the party."