Current monetary policy adopted by the Bank of England is just a short-term balm – one that cannot completely insulate the United Kingdom from the long-term effects of the Brexit vote in June – says Andrew (Andy) Haldane, Chief Economist and the Executive Director of Monetary Analysis and Statistics at the Bank of England.
Mr. Haldane, who was named by Time Magazine in 2014 as among the 100 most influential people in the world, is a member of the Bank of England's Monetary Policy Committee (MPC), which meets every month to set interest rates.
Mr. Haldane's latest comments were made in an article in the Sunday Times.
Andy Aldane was described as a 'rising star central banker' by Forbes magazine after delivering a speech – 'The Dog and the Frisbee' – to the Federal Reserve Bank of Kansas City in 2012. He argued that complex financial systems cannot be controlled with complex regulations. (Image: Wikipedia)
The BoE slashed the Bank Rate from 0.5% to 0.25%, and announced it is pumping an additional £70 billion into the economy. It hinted that rates may drop even further by the end of this year – perhaps down to 0.1%.
The first interest rate cut in seven years is an attempt at giving the patient (UK economy) a shot in the arm for consumer and business confidence.
---
---
Regarding Britons' decision to leave the European Union (EU), Mr. Haldane wrote:
"[Brexit] has thrown up a dust cloud of economic uncertainty, making it harder for companies to plan, with potentially adverse implications for future investment and jobs. No one on the MPC is under any illusion that monetary policy can fully insulate Britain from the long-term effects of the decision to leave the EU."
"This is a structural shift in the U.K.'s economic and trading regime, whereas monetary policy can offer no more than a short-term balm for economic uncertainty."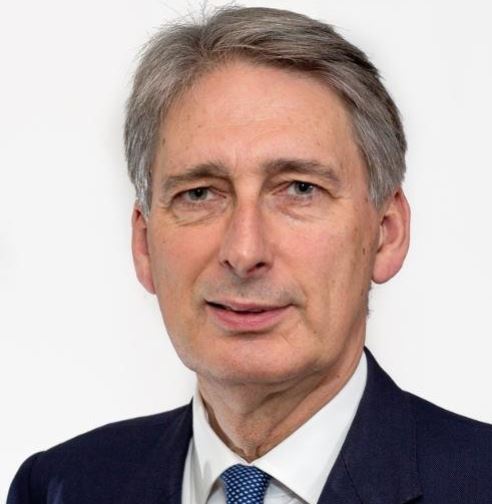 All bets are now on for a series of tax cuts in November, when the Chancellor Philip Hammond presents the Autumn Statement. (Image: twitter.com/PHammondMP)
Britain faces several structural problems, such as wages that have not managed to keep up with inflation for several years and a widening wealth disparity with asset-rich individuals gaining the most following the recovery from the 2008 global financial crisis and Great Recession that followed, Mr. Haldane explained.
With rents and property prices rising more rapidly than wages, disposable income has suffered, especially for younger and poorer Britons, he added.
---
---
The Bank of England can only do so much. One thing it cannot do is set different interest rates for different regions and socioeconomic classes. Other policy makers will need to deal with those problems, he stressed.
Regarding the national income pie, Mr. Haldane wrote:
"The national income pie has expanded steadily, the wealth pie rapidly, over recent years. But they have both been devoured whole by middle-aged and older people."
Savers facing decade of lost returns
British savers, who were already hard pressed, have been left with the lowest interest rates in 322 years. Several analysts and investment managers in London warn that savers face a lost decade of returns.
City AM quoted Laith Khalaf, a senior analyst at Hargreaves Lansdown, who said:
"If anything things are getting worse, not just because savings rates will fall, but because inflation is forecast to rise, eroding the buying power of cash in the bank."
Mr. Haldane wrote:
"In public policy, though, it is rarely possible to please everyone all the time. Understandably, some savers are feeling short-changed. Although I have enormous sympathy for their plight, the decision to ease monetary policy was, for me, not a difficult one."
Pressure for tax cuts
The pressure is now growing for Philip Hammond, the Chancellor of the Exchequer (Finance Minister) to announce tax cuts in November this year during the Autumn Statement.
In a response to a letter from Marc Carney, the Governor of the Bank of England, following the Bank Rate cut and decision to pump money into the economy, Mr. Hammond wrote:
"You make clear in its August Inflation Report the MCP expect the vote to leave the EU will lead to a materially lower path for growth and a somewhat higher path for inflation than set out in May."
"The UK economy is fundamentally strong – employment is at a record high, there are almost a million new businesses since 2010, and the budget deficit has been reduced by almost two-thirds as a share of GDP."
Video – BoE Governor Mark Carney announces interest rate cuts
This EuroNews video shows Mark Carney announcing the first interest rate cut since 2009.