In a bid to get closer to consumers and serve them faster and more directly, Nike are restructuring their global operation and reducing their workforce by 2 percent.
In a recent public announcement, the US-based leading marketer of athletic footwear and apparel brands the new company alignment the "Consumer Direct Offense."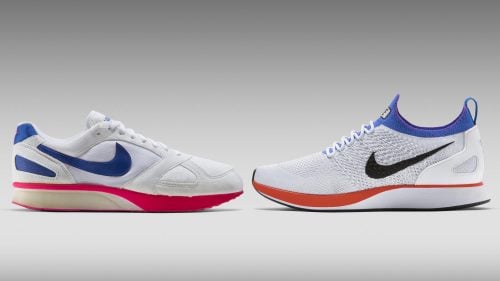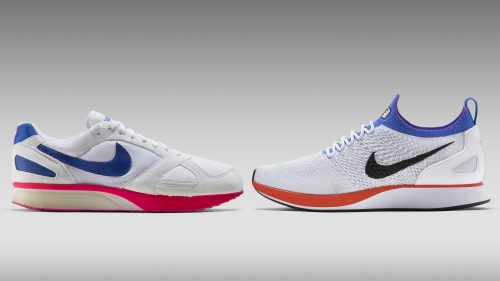 Nike's 2017 Air Zoom Mariah Flyknit (on the right, next to the 1988 Air Mariah) is soon to be released via SNKRS Stash, a new way of connecting directly to consumers that will feature more prominently following the global sport company's restructuring. Image: Nike
The purpose of the change is to use the "power of digital" to "better serve the consumer personally, at scale," by "deepening one-to-one connections" in a dozen "Key Cities" around the world: Barcelona, Beijing, Berlin, London, Los Angeles, Mexico City, Milan, New York, Paris, Seoul, Shanghai, and Tokyo.
The restructuring is expected to result in a 2 percent reduction in Nike's global workforce – representing a loss of around 1,300 of a worldwide total of 62,600 jobs – based on 2015 reported employee numbers.
At the global scale, Nike's current structure of six regions will become four: North America; EMEA (Europe, Middle East, and Africa); Greater China; and APLA (Asia Pacific and Latin America).
The Consumer Direct Offense is to be fuelled by "doubling" three key areas: innovation, speed, and direct connections to consumers.
---
---
'Doubling innovation, speed, and direct consumer connections
Doubling innovation means speeding up the impact and tempo of new platforms. A template for this is the recent launch of Nike's "cushioning revolution" featuring three new platforms: ZoomX, Air VaporMax and Nike React.
Doubling speed means cutting the product creation cycle in half. Work on this has already begun, the example being Express Lane, which is already in operation in North America and Western Europe, and about which, Nike Chairman and CEO Mark Parker said in an earnings release call last December: "allows us to go from creation to market in weeks instead of months."
Doubling direct connections with consumers means leveraging the power of digital to "shape the future of retail," say Nike. Leading with mobile, they plan to unite physical and digital retail, and enhance and expand Nike's membership scheme.
An example of this that is already in operation is SNKR Stash (SNKRS), where consumers – or should we say members – can access exclusive, limited releases of new sneakers. These are announced on an app that reveals a secret location and the members who get there first get to acquire the right to purchase the sneakers.
---
---
The next SNKRS launch in the U.K. will be the Air Zoom Mariah Flyknit Racer, which is due to be released on 22 June at 08.00 a.m.
It would appear that Nike's restructuring reflects a growing trend in brands that are increasing a "direct to customer" approach, pushing membership schemes to secure brand loyalty through digital channels.
Another example of this is Hilton who are reportedly improving customer satisfaction by using mobile apps to connect directly to consumers. Apparently, 25 percent of the hotel group's most loyal customers regularly use their mobile app to open doors, check in, select rooms, and order services.