The Organisation for Economic Cooperation and Development (OECD) cut its forecast for UK economic growth in 2017 by 1%.
The economics institution had projected 2017 UK growth of 2% in June, but it just halved its projection in the latest Interim Economic Outlook and warned of "very high" uncertainty ahead.
The OECD also revised its 2016 GDP forecast, now projecting growth of 1.8% this year – up from its previous forecast of 1.7% growth.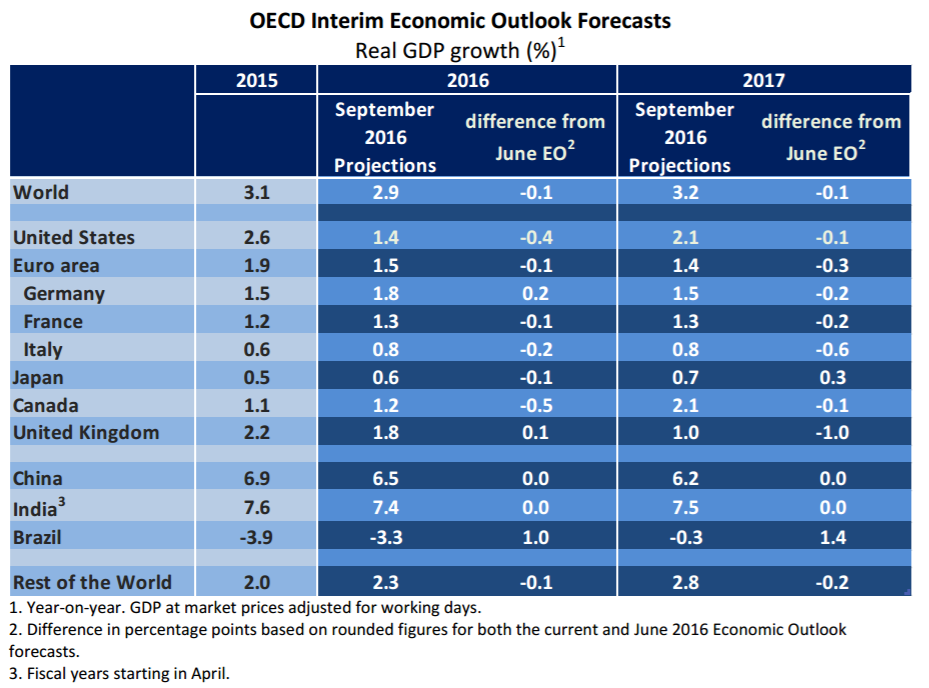 The OECD's forecasts are in line with those of other major institutions, suggesting that the British economy won't fall into a recession as some had previously called for, but will still experience a sharp decline in economic activity.
The OECD said in its report:
"The United Kingdom vote to leave the European Union on 23 June led to high volatility in financial markets and a marked rise in news-based measures of uncertainty.

"While markets have since stabilised, sterling has depreciated by around 10% in trade-weighted terms since the referendum. For 2016, GDP growth has been supported by a strong performance prior to the referendum, even though business investment contracted.

"Developments to date are broadly consistent with the more moderate scenarios set out prior to the referendum and reflect prompt action by the Bank of England in August. However, GDP is projected to slow to 1% in 2017, well below the pace in recent years and forecasts prior to the referendum.

"Spillovers to the global economy, notably the euro area, have been modest so far, including through confidence and financial markets weighing on investment; more negative effects on the euro area are likely to become apparent in 2017."
---
---
Chancellor Philip Hammond responded to the report, saying: "The underlying strength in the UK economy will support growth this year, and we have seen that in the labour market where employment is at a record high.
"The OECD highlights uncertainty in their outlook, and while I recognise that there may be some difficult times ahead, I am confident that we have the tools necessary to support the economy as we adjust to new relationship with the EU and take advantage of the opportunities that it offers."
The OECD is a Paris-based club representing 35 nations – they are all democracies that support the market economy.