OECD nations need to act with a greater sense of urgency to avoid risks to growth, says the Organization for Economic Co-operation and Development (OECD), which warns that the Eurozone risks being stuck in persistent stagnation.
Governments need to fully employ fiscal, monetary and structural policy levels to bolster growth, the OECD emphasized in its Economic Outlook.
The authors explain that the world economy is stuck in low gear, with trade and investment growing at below historic averages. There are diverging patterns of demand across nations and regions, both in the advanced economies and emerging nations.
OECD Secretary-General Angel Gurria said:
"We are far from being on the road to a healthy recovery. There is a growing risk of stagnation in the euro zone that could have impacts worldwide, while Japan has fallen into a technical recession. Furthermore, diverging monetary policies could lead to greater financial volatility for emerging economies, many of which have accumulated high levels of debt." (Full Speech)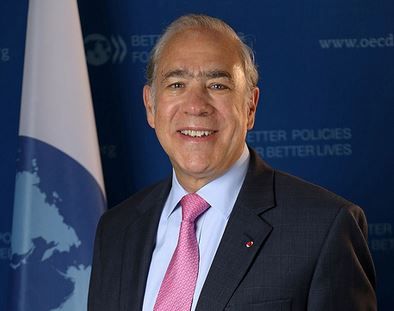 Angel Gurría warns that the Eurozone's stagnation could bring the rest of the world down with it. (Photo: OECD)
World GDP growth is forecast to come in at 3.3% for the whole of 2014, before speeding up to 3.7% in 2015 and 3.9% in 2016, according to the Paris based club of 35 nations committed to democracy and market economy.
Compared to the pre-crisis period, current and near-future GDP growth levels are modest, the authors explain, and "somewhat below the long-term average."
The OECD believes the Eurozone will grow by 0.8% in 2014, and then by 1.1% and 1.7% in 2015 and 2016 respectively.
If the Eurozone continues in its path of near-zero growth, there is a growing risk that global growth could be harmed, especially nations with close trade and financial links.
An Economic Outlook scenario shows how a negative shock could result in a prolonged period of ultra-low growth and deflation in Europe, which would keep unemployment at its current unacceptably high level.
OECD Chief Economist Catherine L Mann said:
"With the Eurozone outlook weak and vulnerable to further bad news, a stronger policy response is needed, particularly to boost demand. That will mean more action by the European Central Bank and more supportive fiscal policy, so that there is space for deeper structural reforms to take hold. A Europe that is doing poorly is bad news for everyone."
Among the industrialized nations, the US is gaining strength. Its GDP is forecast to grow by 2.2% in 2014 and about 3% in 2015 and 2016.
The consumption tax hikes in Japan damaged GDP growth prospects for 2014, which is expected to reach 0.4% for the year, and then rise modestly to 0.8% next year and 1% in 2016.
Chinese GDP is expected to grow at a more sustainable 7.3% in 2014, 7.1% in 2015 and 6.9% in 2016. However, there are various components in China's economy that are attracting growing concern, especially its rapid increase in credit. The authors describe a scenario where a 2 percentage-point fall in Chinese domestic demand growth would reduce global GDP by 0.3 of a percentage point each year.
Ms. Mann said:
"The Chinese authorities will need to use all of their policy instruments to keep the economy on an even keel."
Video – Global economy 'stuck in low gear'