Ofcom has ordered BT to give rivals easier access to its broadband and telephone infrastructure as part of an effort for the UK to "do better" at providing superfast broadband and 4G mobile to consumers.
The industry watchdog said: "BT must open up network, so competitors can connect fibre to homes and offices."
BT Group operates Openreach, a natural monopoly which owns the pipes and telephone cables that connect nearly all businesses and homes in the UK to the national broadband and telephone network.
Ofcom said that Openreach will be required to 'open up' its telegraph poles and 'ducts' – the small, underground tunnels that carry telecoms lines. Rival providers will be able to use these to build their own fibre networks, connected directly to homes and offices.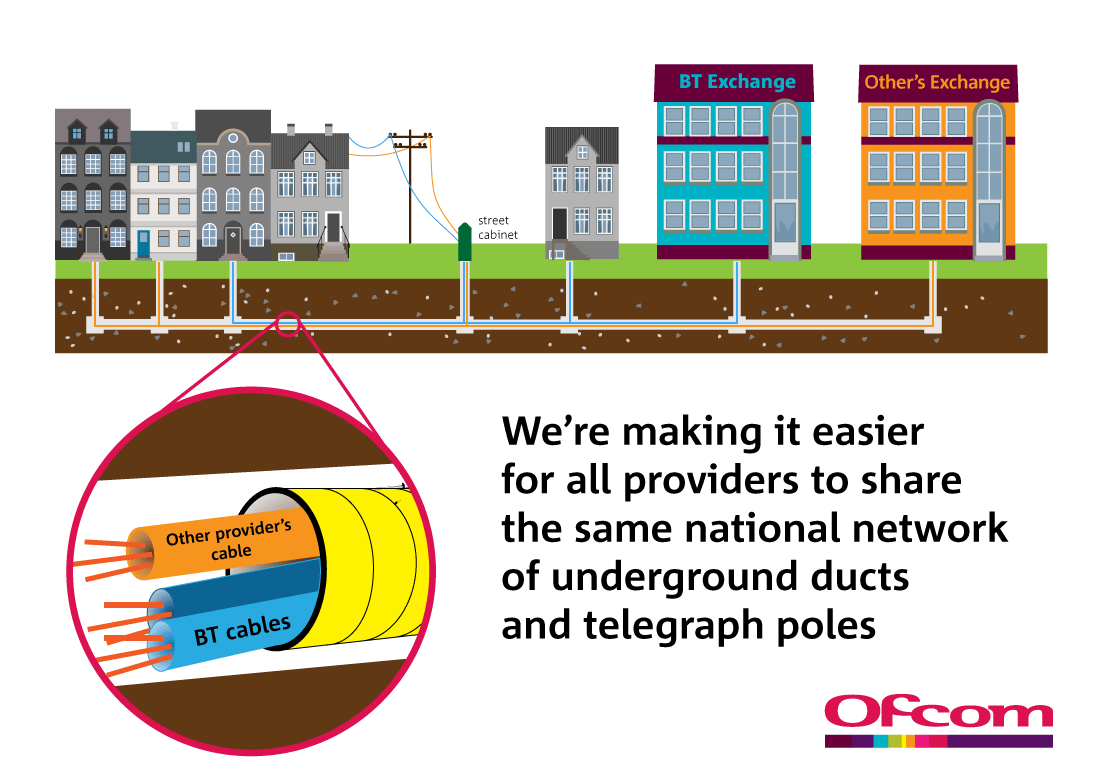 To make it easier for rivals to access the infrastructure Openreach must provide comprehensive data on the nature and location of its ducts and poles.
BT has an obligation to treat all consumers equally. Is it?
The Openreach structure was introduced by Ofcom in 2005 and has "delivered benefits such as stronger competition."
However, according to Ofcom, there is still an incentive for Openreach to make decisions in the interests of BT and not its competitors, which can cause competition problems.
Ofcom said: "For example, Openreach's governance lacks independence from BT Group. The wider company has retained control over Openreach's decision-making and the budget that is spent on the network, and other telecoms companies have not been consulted sufficiently on investment plans that affect them."
The watchdog has decided that Openreach should strengthen its independence from BT and overhaul its governance. "In future, Openreach needs to take its own decisions on budget, investment and strategy – such as the deployment of new networks," Ofcom added.
Ofcom stressed that management at Openreach should require that all wholesale customers are treated equally. In addition, there should be more transparency over "how costs and assets are allocated between Openreach and the rest of BT."
---
---
Ofcom says that it will provide detailed proposals later this year.
A new model could require Openreach to become a ring-fenced, 'wholly-owned subsidiary' of BT Group, with its own board members.
The watchdog added that, if necessary, "Ofcom reserves the right to require BT to spin off Openreach as an entirely separate legal entity, with its own shareholders."
Sharon White, Ofcom Chief Executive, said: "People across the UK today need affordable, reliable phone and broadband services. Coverage and quality are improving, but not fast enough to meet the growing expectations of consumers and businesses.
"So today we've announced fundamental reform of the telecoms market – more competition, a new structure for Openreach, tougher performance targets, and a range of measures to boost service quality.
"Together, this means a better deal for telecoms users, which will improve the services and networks that underpin how we live and work."