A potentially large Russian Arctic oil well has been found by Exxon and Russia's state-owned energy company Rosneft, the two firms announced on Saturday. The finding raises the prospect that the Arctic is awash with oil and gas.
The timing for Exxon, however, could not be worse. The United States, European Union and other allies have expanded sanctions against Russia for allegedly sending troops and military equipment across the border into Ukraine to help the rebel separatists.
The US sanctions prohibit domestic companies from providing goods, services and technology for projects in the Russian Arctic.
Seen as the first major US commercial casualty in the allied-Russian face off, Exxon said last week it was winding down its operations in a $700 million project (Universitetskaya-1) in the Kara Sea to comply with the sanctions.
Alan Jeffers, an Exxon spokesman on Saturday said his company had discovered hydrocarbons in the Arctic. He added, however, that it is too early to speculate what the potential outcome might be regarding the Universitetskaya-1 exploration well.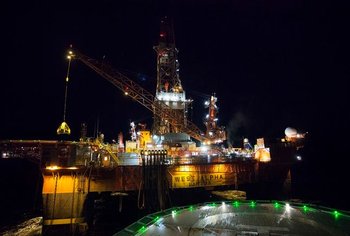 Rosneft and Exxon say they have found oil in the Arctic (Photo: Rosneft).
Rosneft wrote on its website on Saturday:
"Rosneft successfully completed the drilling of the northernmost well in the world – the Universitetskaya-1 well in the Arctic. According to the results of the drilling Rosneft has made an oil discovery at the East-Prinovozemelskiy-1 license area. The drilling was completed in record-breaking time – in one and a half month – in compliance with all the technological and ecological standards and requirements."
"This is an outstanding result of the first exploratory drilling on a completely new offshore field. We would like to name this field Pobeda ('victory')."
Arctic may have huge untapped resources
Geologists believe the Arctic may have some of the largest untapped oil and gas deposits on the planet.
In 2011, Rosneft and Exxon signed a deal to explore the waters in Russia's Arctic. Until the sanctions put the brakes on, the two companies were set on spending over $3.2 billion exploring an area larger than Texas, with Exxon putting up most of the money.
The Kara Sea's Universitetskaya-1 well is just the first the two oil firms have drilled.
The sanctions will not affect current global or Exxon oil production, because it will be several years before any of these wells start pumping oil and gas for commercial use.
Exxon is desperate to find new wells, its global production of oil and gas is declining, as was its portfolio of promising wells until today.
For Russia, finding oil and gas in large quantities in the Arctic would mean a new source of income for the country, and greater geopolitical clout internationally.