OPEC and non-OPEC oil producers are considering cutting oil output further, according to a statement released on Sunday, following a meeting in Kuwait to assess progress with the global pact to cut oil supplies.
A joint committee of ministers from OPEC and non-OPEC oil producers will review the option of extending a limit of supplies by another six months.
An early draft of the statement said that the committee "reports high level of conformity and recommends six-month extension".
The final statement called for a technical group and for the OPEC Secretariat to "review the oil market conditions and revert to the Joint OPEC/Non-OPEC Ministerial Monitoring Committee (JMMC) in April, 2017 regarding the extension of the voluntary production adjustments".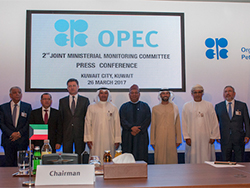 The statement said that the oil ministerial committee "expressed its satisfaction with the progress made towards full conformity with the voluntary production adjustments and encouraged all participating countries to press on towards 100 percent conformity."
OPEC and 11 other competing producer, including Russia, agreed last December to reduce their combined output by nearly 1.8 million barrels per day (bpd) in the first half of the year. The initial deal was to last six months, with the option of extending it by six months.
"Any country has the freedom to say whether they do or they don't support [an extension]. Unless we have conformity with everybody, we cannot go ahead with the extension of the deal," Kuwaiti Oil Minister Essam al-Marzouq said. He hopes that a decision will be made by the end of next month.
The price of Brent crude rose to over $57 a barrel in January, but dropped back to below $51 a barrel in recent weeks. The fall occurred after the Opec group of oil producing nations said global crude stocks had risen, and US shale oil producers, who aren't part of the pact, ramped up output.
Abhishek Deshpande, an oil analyst at Natixis, told the BBC the price of crude dropped after oil traders became "jittery" about the market. They remain uncertain about the commitment of Russia and Saudi Arabia, Opec's biggest member, to the cuts, according to Deshpande.
"The chances remain high for an extension to the supply cuts, as long as there are more stockpile withdrawals," he said.
OPEC, formed in 1960, includes Algeria, Angola, Ecuador, Gabon, Iran, Iraq, Kuwait, Libya, Nigeria, Qatar, Saudi Arabia, UAE and Venezuela.
Major oil producing nations that aren't part of OPEC include Russia, Mexico, and the USA.