Since June oil has gone in just one direction – DOWN. On Monday, Brent Crude fell $1.77 to $67.30 per barrel in afternoon trading, having hit $66.77 earlier in the day, a 5-year low. US crude fell $1.44 to $64.40, after dipping as low as $64.14.
Several analysts on both sides of the Atlantic, including Morgan Stanley, forecast a $70 average Brent Crude price for 2015. Morgan Stanley's previous forecast for 2015 had been $98 per barrel. It also predicts $88 per barrel in 2016. One wonders whether any of these forecasts are worth anything, given inaccurate they prove to be.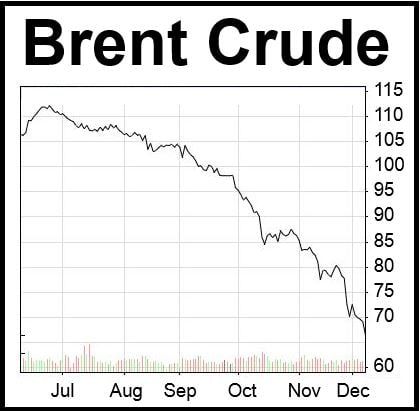 Source: Nasdaq Brent Crude Chart.
The New York City-based investment bank warns that oil could fall as low as $43 per barrel in 2014. Energy Commodity Strategist at Morgan Stanley, Adam Longson, warns that markets could become unbalanced if OPEC members take no action.
OPEC's largest oil producer, Saudi Arabia, has persuaded its Gulf neighbors not to cut production and let the market find its way. They also believe that low oil prices will put a stop to the shale energy boom in the US, which is partly responsible for the current global oil glut.
Gulf producers enjoy much wider margins compared to their US shale counterparts, and would easily win in a protracted price war. Saudi Arabia has visited major client nations this year, including the US, offering discounts to make sure it does not lose oil market share.