Online shopping /ɒnˌlaɪn ˈʃɒpɪŋ/ refers to buying goods or services via the Internet. It means using a communication devices such as a laptop, desktop, tablet, or smartphone to get onto the Internet, landing on an online store's webpage, choosing something, paying for it with a credit or debit card, and arranging for it to be delivered to the purchaser's home or place of work.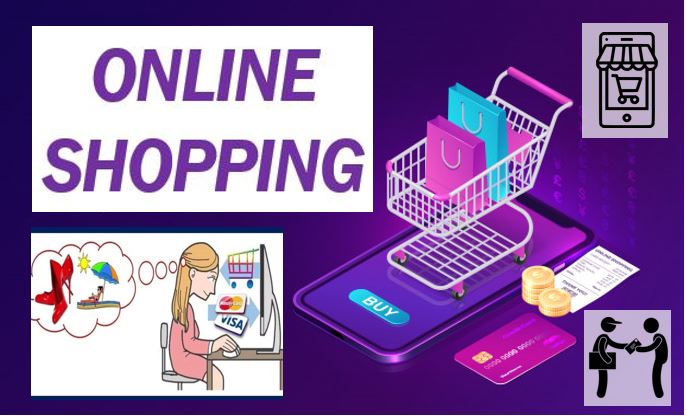 Wikipedia has the following definition of the term:
"Online shopping is a form of electronic commerce which allows consumers to directly buy goods or services from a seller over the Internet using a web browser."
"Consumers find a product of interest by visiting the website of the retailer directly or by searching among alternative vendors using a shopping search engine, which displays the same product's availability and pricing at different e-retailers."
---
What does online mean?
Online, in this context, means on or via the Internet. If I am talking to a friend using Skype, I am online and so is my friend. To send an email I need to go online first. If I pay for things, transfer my money, or check my account balance on the Internet, I have an online banking arrangement with my bank.
Online shopping has not been around for that long – about three decades, i.e., since the advent of the Internet. Before the Internet came, people bought things by either going to a bricks-and-mortar store, telephoning through an order, or sending one by post. The Internet has dramatically changed how most of us shop, as well as how we work, play, study, communicate, find romantic dates, watch our favorite movies or series, and make friends.
---
Online shopping and e-Commerce
E-commerce, which stands for electronic commerce, refers to doing business electronically, which in most cases means online. Any business activity that occurs online is a type of e-commerce. Online shopping forms part of e-commerce.
---
Consumers love online shopping
Most of us enjoy shopping online. It is convenient, there is a lot of choice, prices are competitive, and there is nobody trying to persuade us to buy something. We also like it because we can do it from anywhere and at any time of day and night.
You can buy things online from your living room at home, your workplace, on a bus or train, and even on the other side of the world, as long as you have an Internet connection, a delivery address, and a debit or credit card.
Even if you don't want to pay by card, thousands of businesses allow you to pay by bank transfer.
---
Online shopping – a massive market
Online shopping has been growing extremely fast since the turn of the century. According to optinmonster.com, the global market is expected to hit $4 trillion this year (2020).
Just in the United States, there will be 300 million online shoppers by the end of 2023, i.e., ninety-one percent of the country's population, analysts predict.
Optinmonster.com adds:
"As of 2018, the digital buyers' penetration rate worldwide is 47.3%. If we're looking at statistics by gender, the difference between the percentage of male and female shoppers isn't a breath stopper — 72% are women, while 68% are men."
Video – Online Shopping