People in Ontario can expect to pay more for electricity this winter. The Ontario Energy Board announced that new electricity prices will be introduced on November 1.
Households and businesses, with a typical consumption pattern and using 800 kWh per month, across the province will see an increase of 1.7% to their average monthly bill.
Time-of-use customers will pay 7.7 ¢/kWh for off peak usage (an increase of 0.2 cents),11.4 ¢/kWh for mid-peak usage (an increase of 0.2 cents), and 14.0 ¢/kWh for on-peak usage (an increase of 0.5 cents).
According to the Ontario Energy Board, "when the prices change, the hours for mid-peak and on-peak prices also change to the winter time-of-use hours. The lowest-priced, off-peak period remains from 7 p.m. to 7 a.m. on weekdays and all day weekends and holidays."
The forecast takes into account increases in the cost of power from rate-regulated nuclear and hydroelectric power plants.
The board reviews electricity prices twice a year, based on updated cost estimates, which helps make "smooth" price changes over time.
Ontario Electricity Time-of-use Price Periods graph: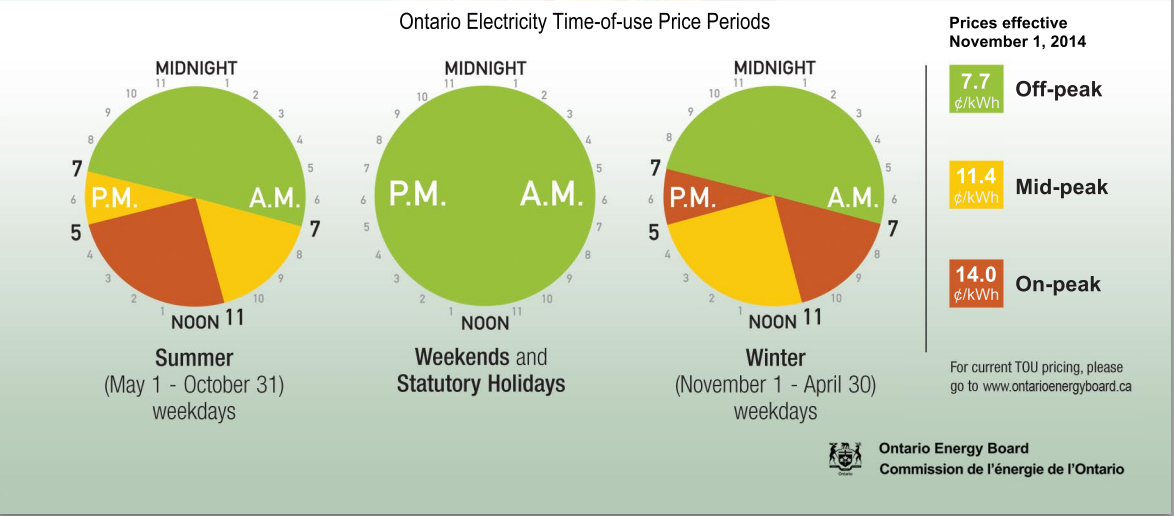 Source: Ontario Energy Board