The Canadian annual inflation rate rose 2.0% in the 12 months to September, after rising by 2.1% in August.
The report, published by Statistics Canada, revealed that prices went up in all major components in the 12 months to September, with prices for housing and food rising the most and transportation posting the smallest increase.
Shelter costs went up by 2.7% in the 12 months to September, with a 16.2% surge in natural gas prices. Compared to the same month last year, consumers paid more for homeowners' home and mortgage insurance, property taxes and electricity. However, the the mortgage interest cost index went down year over year.
Food prices also increased by 2.7% on a year-over-year basis, following the 2.2% increase in August. The transportation index increased by 0.5%.
Tuition fees, part of the recreation, education and reading major component, increased by 3.2% in September compared with the same month a year earlier. Tuition fees went up the most for residents of Ontario (+4.0%) and least for residents of Newfoundland and Labrador (+0.9%).
The index for alcoholic beverages and tobacco products also rose.
Prices went up in all provinces, with Alberta and Ontario experiencing the highest increases – of 2.6% each.
Statistics Canada identified price drops for goods such as video equipment (7.4%), digital computing equipment and devices (5.9%), and furniture (4.1%).
Canada's cost of living was up 0.2 per cent in September on a seasonally adjusted basis. The Bank of Canada's core index increased by 2.1% in the 12 months to September – the same as the increase in August.
Canadian inflation by province: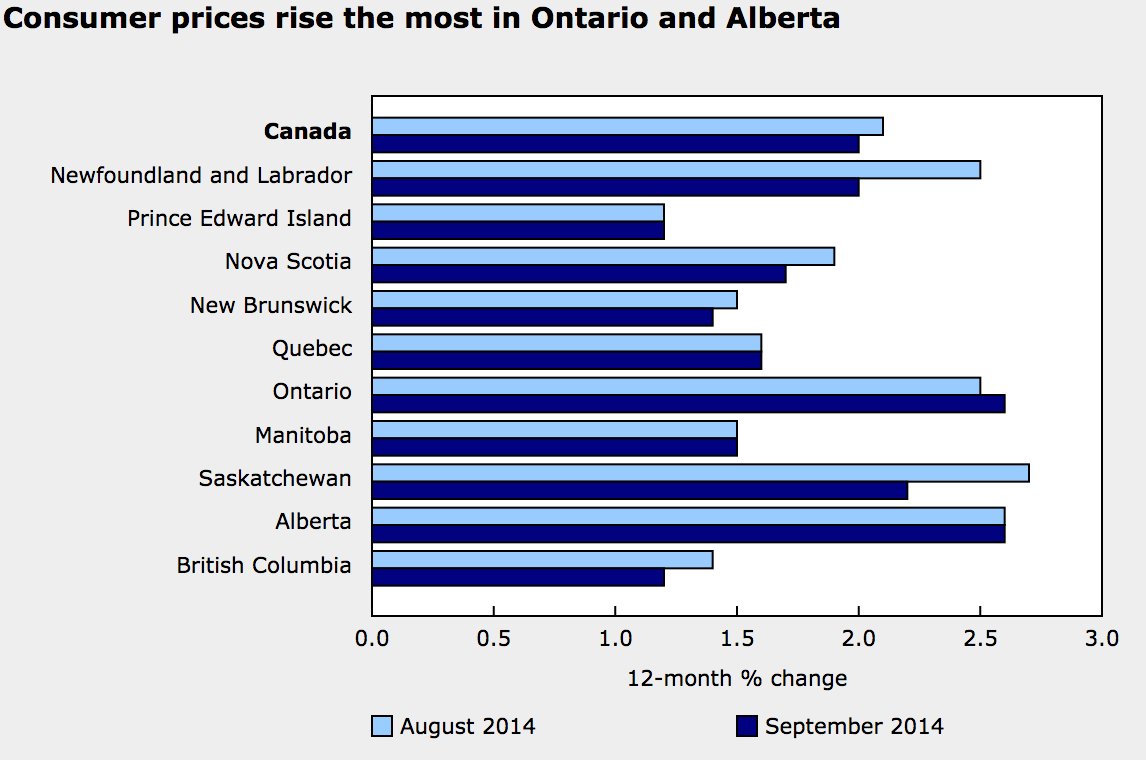 Source: "Consumer Price Index, September 2014" Statistics Canada, Government of Canada