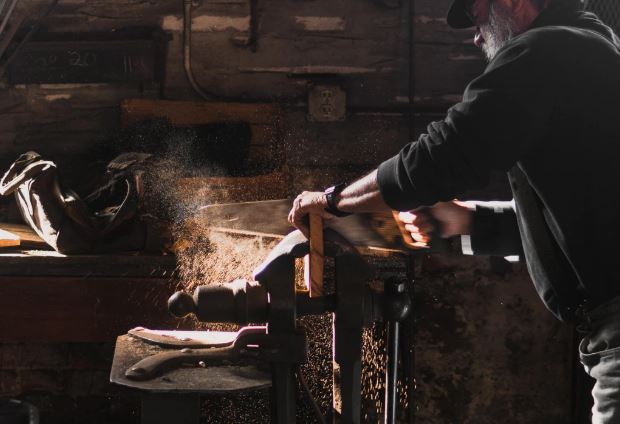 Woodworking is one of the oldest trades in the world. The importance of woodwork based careers was important before the ages of industrial production, and the mass production of metals. Woodworking is such a versatile field because it can be used in many different areas. 
While metal production and industrialization of labor has taken a toll on some woodworking jobs, it is still a very valuable skill. The fact that many people do not think woodworking is a viable option for a career also means that there is less competition for business. 
So, if you are thinking about opening a woodworking business, this is important knowledge to have.
What Workspace Will You Have?
Woodworking shops require some significant space. Being cramped up inside a shed the size of a closet just will not do. When you are surrounded by your material, you need ample space to move around. You also do not want to be so cramped that your saws and tools can pose a hazard to your safety.
Consider what space you have to work with. You might be starting your business at home, so consider how much room your shed or garage would have, and how much expansion will be possible if you start growing your business. 
What Tools and Equipment You Need
Your expenses are going to revolve around the equipment, tools, and material you buy. These should be your primary concern because they will help you get off to the right start. Power tools can cost a significant amount of money. Saws and tools can cost up to $2000, wood and materials can be upwards of $1000+, computers and cameras to document your work can also go as high as $1800. Do not fear! You can see on this site that there are an assortment of saws for your needs, and they range in price and functions so you have options for your business.
Band saws, miter saws, table saws, jig saws, and circular saws are just a few of the tools you should know about. Computers and cameras might sound like an odd expense to have for a woodworking business, but they will come in handy.
How to Marketing Your Business
As mentioned, computers and cameras can help you market your business. Improving your content will attract more customers, and a wider audience. You should invest in a good computer and camera so you can record videos, take pictures, and develop a website that captures your business.
Great businesses take advantage of online marketing, and the best place to start is by creating a website and creating great content that shows you are a dedicated woodworking business. You can create the best products and offer the best woodworking services, but if you cannot show people, then what is the point?
With the internet being such a make or break tool for businesses, the answer is obvious whether you should invest your time and effort into using it to help spread awareness for an online audience.
What Is Your Woodworking Focus?
Picking a specialty can help set you apart from other woodworking businesses, or you can do a wide range of woodworking jobs. Whatever you choose, make sure that your market or audience knows what you can and cannot do. Bad businesses will be vague in their descriptions of what kind of work they provide.
Some options you have can be crafts, like signs or home decor (ex. chairs), while other woodworking businesses offer commercial wood products for home renovation/construction, businesses, or art installations. How big or small you want to go will help you figure out expense needs, material usages, and the size of your workspace. 
How Much Money Can Woodworking Businesses Make?
A lot. Woodworking is a highly sought after skill because it is so specialized. Not many people can craft elegant art pieces, or sturdy pieces of furniture with wood. The amount of skill it takes to use a saw in such a delicate way means woodworking business owners or individuals can make up to 6 figure salaries.
Fewer people are doing woodwork labor now, so the competition is smaller too, which means prices vary on how much labor, materials and the time it takes, which allows you to set rates at your leisure.
Woodworking businesses can be a great way to earn an impressive salary, and create an equally impressive range of products. Good woodworking businesses are not as easy to come by, so knowing what you need before starting your own can help you prepare for a lucrative opportunity in a market that needs skilled woodworkers.
__________________________________________________________
Interesting related article: "What is Online Marketing?"