Offline OST to PST converter is used to convert OST files to PST format of Microsoft Outlook 365. It is compatible with Windows 7 and other more recent OS. It has both an online version and an offline version which both have the same capabilities except that the online version requires an Internet connection.
The software places the files in a special folder created when Microsoft Outlook 365 was installed after converting them. It turns out that PST files are converted and copied on their own for more convenient use. A distinctive feature of this software is the simplicity of the interface.
It is convenient and proven software that is popular among Microsoft Outlook 365 users.
How to use the program?
The conversion of the files from one format to another takes little time and it can be done using these steps:
Download the program with the file from the link: https://www.osttopst.online/offline-ost-to-pst-converter
After completing the simple installation process according to the standard scenario (we indicate the checkbox on the license agreement and wait for the progress bar to be filled). To be on the safe side, you can restart your computer, but this is not necessary.
Run the program and wait for the resources to load.
Select the file from your computer and click the Next button.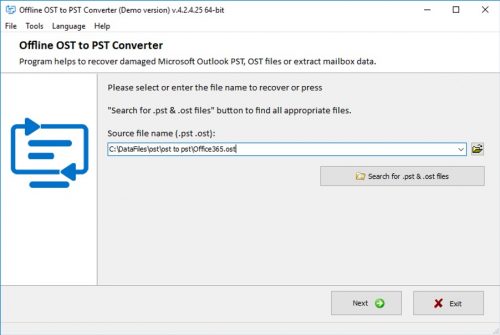 Select the conversion mode and click on it again.
In a new window you can see the contents of the converted file. Let's move on.
Choose a folder to save new files – you can create or specify a standard path (click Next again).
Click Save as PST file and wait for the operation to complete.
Done!
The installation of the program can be done within minutes and it takes less time to produce results. It can also run on computers with low performance.
The main advantage of this tool is its very simple to use and user-friendly interface. It can be easily understood by a user without special skills. The program works like a standard converter, but there are other useful features as well. It is enough to spend a little time to achieve a positive result. Here is a quality product without unnecessary elements and functions, which does not confuse the user.
Reasons for use and main functions of the program
You can use the online and offline versions, but the offline version is preferable as you do not need to connect to the internet. You will also not need to upload the file to the web server, which will save time.
When using the software, you do not need to sign a non-disclosure agreement and there is no limit to the size of the file that can be fixed. It turns out that you get quality software that will work without any restrictions. Completion of the assigned task is guaranteed in 99% of cases.
Let's take a look at the main features of this software:
The offline version does not require an Internet connection – an online application requires a connection. However, both versions do an excellent job.
It is possible to convert at least 5 objects for free.
You can convert Unicode files for Outlook 2007 and later.
There is a chance of successful conversion of a damaged OST file, which will allow a successful recovery operation.
The software can read and convert encrypted data – great news for new administrators.
To use the offline version, no authorization is required for the Windows Domain Controller.
Once again, we note that the size of the file itself is not important – the program successfully copes with any volumes.
Data can be converted selectively. This means that the user of the program can select specific data to be converted.
Each converted file can be previewed to evaluate the content.
This software can interact with PST, MSG, EML, VCF, and TXT files. It is a tool capable of converting damaged OST files or converting files of this format as a result of an unsuccessful recovery. Even if your Outlook email program profile has been lost or deleted, you can use the OST to PST converter.
It is important to remember that to perform the conversion of large OST files; you must have a PC with 4GB of RAM. A 64-bit version of the Windows operating system must be installed on the computer to be able to use the 64-bit version of Outlook from Microsoft. You will also need this program to export the converted files.
You cannot use the Office 365, iSO, or macOS versions of Outlook. Also, you will not be able to export contact groups from OST to PST.
If you want to get high-quality and modern software that does not require a lot of resources, OST to PTS converter is the best option. You do not need to pay or buy a subscription to use this program. To complete the task, you need to spend a few minutes. The tool is suitable for anyone who wants to get a high-quality software product.
Conclusion
You can use any other file conversion software, however, many entrepreneurs and email business account owners prefer to use a proven product. They choose OST to PST Converter because of its reliability and great feature set, as well as speed.
Many users don't want to waste time installing. In this case, the online version of the program comes to the rescue. Its use implies an Internet connection, but it eliminates the need to wait for the installation process and free up space on your hard drive. It turns out that it is OST to PST converter that is an excellent solution for users. Try this quality software product for yourself, which has received a large number of positive reviews from satisfied customers.
---
Interesting Related Article: "5 Awesome Microsoft Outlook Tips to Improve Productivity"