The adoption of a new enterprise-wide software system may cause a feeling of uncertainty due to many causes. One of the most obvious reasons is the fear that the usual business processes will have to change on the go. The unwillingness to change daily habits is a human trait that can be characteristic of business as well. But the very nature of the modern world requires constant evolving, and adopting cutting-edge software technologies is needed for gathering competitive advantage in the market.
The good news is that custom-made software solutions provide the possibility of business automation without breaking the business processes that have worked well over the years. Moreover, software automation can improve the business processes that you use, breathe new life into them, and open up new horizons for your company. The world of modern software is Santa's bag, in which there's a present for everyone. Whether you're an owner of a small beauty salon, a manager in a large logistics company with branches around the world, or a novice entrepreneur who wants to expand your customer base, you may be sure that there's a software solution for your business issues.
In this article, we'll consider the main benefits of using custom-made software solutions for painless business automation.
Why Prefer Custom-made Software for Your Business
There are multiple reasons why medium-size business companies prefer custom-made software over off-the-shelf solutions.
First of all, custom-made software is built in accordance with your business needs and issues. Business analysts of a software development company can perform a detailed analysis of your business issues to provide the best possible software solution. During the work on the project, such companies provide high transparency of the project and offer full involvement of the client through the whole development phase.
For example, developers can regularly provide the client with preliminary versions of software to receive feedback and make changes if needed. Such an approach allows avoiding one of the most significant disadvantages of off-the-shelf software solutions.
Developers that create ready-to-use applications don't know what end-user will utilize the implemented functionality. Therefore, they try to meet the requirements of all potential users which results in complex and cumbersome solutions. Take into consideration the need for further customization of ready-to-use applications, and you'll understand that the struggle is real.
Another essential feature of custom-made software is its scalability. In other words, developers can implement additional features as your business grows. You can pay only for those features that your business needs at the moment, and after the successful adoption of a new software system add additional modules as you need them. Let's say, you entered the new markets and increased the number of your employees.
With a custom-made app, you can adapt to these changes effortlessly without the need to involve high-paid specialists to revise software architecture. Or you can plan to engage new clientele which will require the use of a reliable customer relationship management system. In such a case, you can contact your custom software developer that will deliver and integrate the necessary modules into your system in a timely manner.
The adoption of a new software system doesn't necessarily mean that you have to abandon the apps that you already use. Instead of that, your business applications can be upgraded and integrated into the brand new comprehensive custom-made system. It will simplify the transition to new software and help to avoid the need for long and expensive training for employees.
As a result, you'll get access to a software solution that complements the functionality of the application that you have used for years with new features. For example, you can implement a stand-alone peer-to-peer video chatting app to improve the collaboration between the employees, allow your customers to book services online, or rely on a mobile GPS tracking software to monitor the state of your vehicles.
Last but not least, you don't have to change your business processes. Instead of breaking the usual course of things, you can focus on the growth of your business and the involvement of new customers.
Essential Software Tools For Business and Benefits They Provide
It may be hard to define software tools essential for every company in the world. Every business is unique, and business processes are built in accordance with local peculiarities and laws. But if you think of the growth of your business and do your best to increase your incomes, most probably, one of your main concerns are the following:
You have to monitor the performance of your employees continually, manage their salaries in accordance with the contribution to the company, and define the best possible ways of increasing their loyalty

Each project of your company should be transparent. Each task should be assessed and assigned to a particular staff member

Your client is your success. Therefore, you have to develop the strategy of increasing customer satisfaction and define the optimal way of involving new clients

Constant measurement and analysis of your performance indicators will allow your company to define if there's the need for further improvement of used business processes
All these tasks can be automated and handled by the following software solutions respectively:
human resources management system

project management system

CRM system

business intelligence system
Let's take a look at each of them closely and consider the main benefits that they can provide.
HR Management System
Human Resources solutions significantly simplify the management of all employee's information. Via desktop or mobile devices you can review such info as performance indicators, time tracking, and other data.
HR systems can automate salaries management. Moreover, you can analyze the performance of each of your employees and assess their contribution to the company. Using this info, you can promote the most productive staff members with annual bonuses which will help to build employee loyalty. The letters HR stand for Human Resources.
If you work in a diverse business environment, you have multiple departments each with its unique area of responsibility. Gathering data from multiple locations, sorting, and analyzing can become a pretty time-consuming task.
Also, keep in mind that duplicate and inaccurate data can appear. A properly designed custom HR software can automate the process of gathering data from different departments and assure that you work with accurate and most current information.
Project Management System
Custom-made project management systems can help your company to automate business processes. Efficient time and attendance systems can collect information about working time completed by each employee and simplify the monitoring of staff members that work on the field. Such systems provide reliable mechanisms of efficient planning of shifts and help to assess the time required to complete particular tasks.
Collected info can be processed by the HR management system to calculate salary on the base of real hours completed.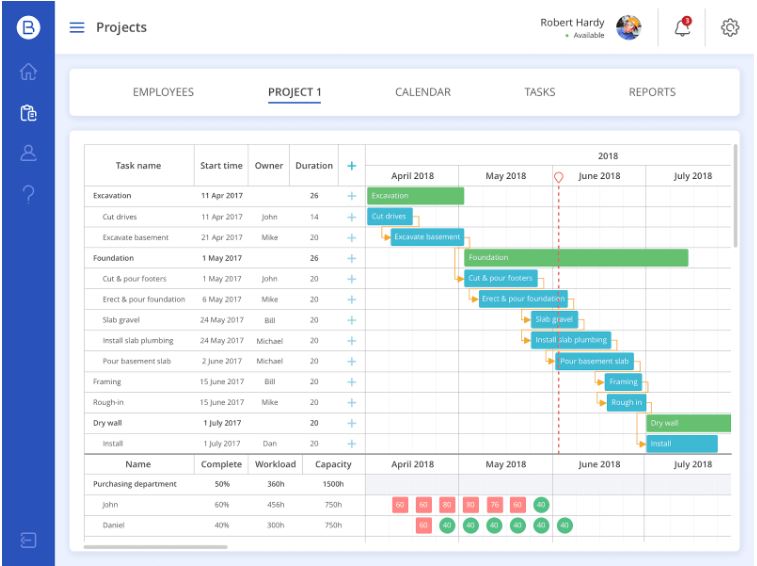 Nowadays, business processes require the involvement of specialists from different departments that specialize in a narrow circle of tasks. I such a case, one of the key factors that you should keep in mind is unhindered interaction between team members. Custom-made project management systems allow improving collaboration between employees thanks to the use of text or video chats and group discussions.
Project management systems allow generating interactive reports and KPI visualizations that allow assessing the overall performance of your company and analyzing personal performance indicators.
CRM System
Custom CRM software allows simplifying the performing one of the core tasks for any business. CRM helps you to increase sales performance by improving customer service and achieving better relationships with your current and potential clients. CRM modules can provide access to the easy-to-use customer database.
With their help, you can review such info as clients' preferences, reviews, comments on your services, communication history, calls, purchases, contact info, and many more.
During the growth of your business, you can enter new markets and open new branches of your company. A CRM system can use your clients' contact info and notify them that a new branch has appeared near to them. Your customers will receive automated notifications via email or mobile devices providing them with info about the new address, prices, schedule, available services, and contact info.
If you plan to provide some new services to your clients, their reactions may differ from interest to slight distrust. To eliminate possible misunderstandings and provide your current and potential clients with the most relevant information on your services, custom-made CRM systems can provide online consulting features.
For example, live video chats will allow the specialists of your company to advise clients on the features of the services offered. Moreover, such an approach will enable closer communication.
To achieve better clients' satisfaction CRM system can take care of managing your customer loyalty programs. For example, you can offer personal bonuses to the most loyal clients.
Business Intelligence
Business Intelligence (BI) solutions help companies of any size and field of activity to develop data-driven strategies and make decisions on the basis of intuitive data analysis. Even if your company doesn't work with large amounts of data, you can benefit from the use of modern BI solutions.
Interactive analytical reports with clear and easy-to-read and marketing data can help you to define a better growth strategy. Instead of making decisions based on intuition or assumptions of different kinds, company management can rely on solid and most current information. BI solutions help to gain knowledge from the abundance of data and better understand customer needs and expectations.
You can effectively use your own company's data and get a clear picture of where to invest in infrastructure. Consolidation of information about sales, marketing, and financial performance in one place can help your company to create unique value in a competitive environment.
Conclusions
Business automation with the help of custom-made software provides dozens of benefits. First of all, you don't have to adapt to the new software system and change your business processes. Instead of that, you can provide a software development company on the issues that you have and receive the best possible software solution that will allow you to improve the performance of your company and increase the income.
Custom-made software can grow as your company grows and can adapt to the changes of your business model effortlessly.  Also, there's no need to pay for the functionality that you don't need at the moment. You can pay for the software system that provides the minimal amount of required features, check if it suits your company, and then apply for the services of a software development company that will develop and integrate new software modules into your system.
Such an approach is especially efficient for small and mid-sized businesses that count every penny.
Relying on custom-made software, you can get the following benefits:
personalized software solution

great scalability

integration with apps that you already use

cost-effectiveness

automation of repetitive tasks