The Pavlof Volcano, a stratovolcano of the Aleutian Range on the Alaska Peninsula, erupted suddenly during the weekend, spewing ash into the sky. Today the volcano is still rumbling and flinging ash, says the Alaska Volcano Observatory. Its ash plume could potentially bring down an airplane.
A large ash plume is now 37,000 feet up in the atmosphere and trails about 400 miles (650 km) to the northeast over the interior of Alaska. Airplanes and airports in the region have been alerted.
Pavlof Volcano in eruption, 3 AM, March 28th, 2016. Photo courtesy Royce Snapp, taken from Cold Bay, with a 500 mm lens. Cold Bay is 36 miles southwest of the volcano. (Image: www.avo.alaska.edu)
The Alaska Volcano Observatory made the following statement today:
"The eruption of Pavlof Volcano, that began around 4 pm AKDT yesterday (00:00 UTC) continues. Seismic tremor remains at very high levels."
---
---
"Lighting associated with the ash eruption has been detected this morning, and infrasound (pressure sensor) data from a sensor network located in Dillingham (400 miles or 650 km) also indicate sustained ash emissions."
The Observatory added that a continuous plume of ash has been observed in satellite images, making its way northeastwards over the interior of Alaska.
Satellite image showing strong ash signal (blue) extending over 300 miles (500 km), north-northeast from Pavlof, 4:19 am AKDT (12:19 UTC), March 28, 2016. (Image: www.avo.alaska.edu)
Mariners, pilots and residents in Cold Bay (37 miles southwest from the volcano) reported seeing lava fountaining from the summit crater.
---
---
Scientists believe volcanic mudflows are likely on the flanks of the volcano and could pose a hazard in the local river valleys.
About the Pavlof Volcano
The Pavlof Volcano is an ice- and snow-covered stratovolcano located about 592 miles (953 km) southwest of Anchorage in the southwestern end of the Alaska Peninsula.
It is approximately 4.4 miles (7 km) in diameter, and has active vents in the east and north sides close to the summit.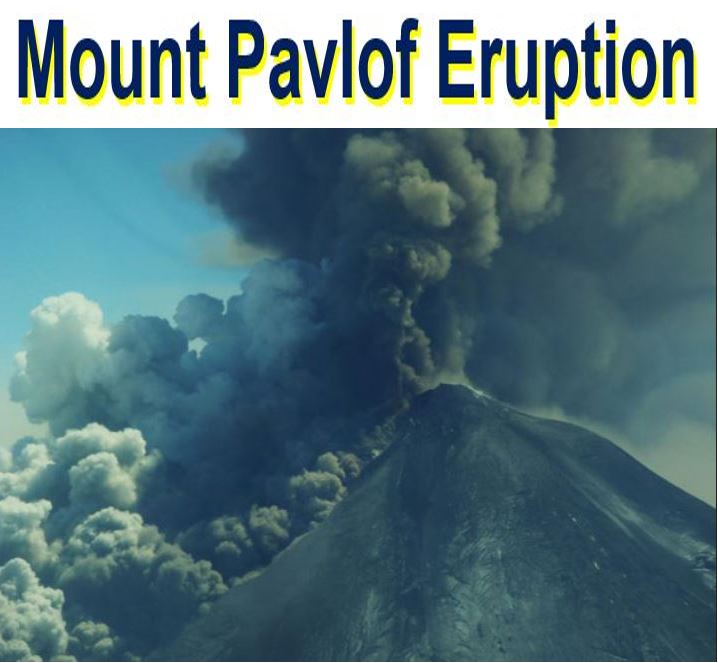 The Pavlof Volcano is one of the most active in North America. As it is located in a very remote area, it does not pose much of a threat to people on land. However, airplanes that fly through its ash plume can experience engine failure. (Image: alaskapublic.org)
With more than forty historic eruptions, it is one of the most consistently active volcanoes in the Aleutian arc, where a number of active and dormant volcanoes have formed as a result of subduction along the Aleutian Trench.
When the volcano erupts, lava flows down the mountain and can continue doing so for several successive months.
Past eruptions have generated ash plumes as high as 49,000 feet. A 2013 eruption produced a 27,000-feet-high plume that extended 310 miles (500 km) from the volcano.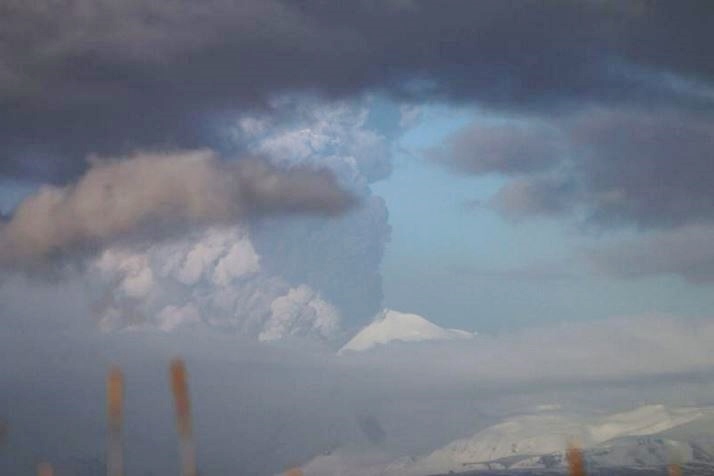 Mount Pavlof in eruption 27th March, 2016, as seen from Cold Bay at ~8PM local time. Photo courtesy of Royce Snapp. (Image: www.avo.alaska.edu)
Potential threat to airplanes
The volcano has a threat score of 95 – the threat from future eruptions is considered to be high. Most of the threat is to nearby air routes by large releases of ash.
"Each day at least 20,000 international airline passengers and dozens of flights loaded with freight fly above the volcano."
"An eruption at Pavlof that puts large amounts of volcanic ash high into the atmosphere produces air traffic safety concerns and significant financial losses as flights must be rerouted. This is why the volcano receives so much attention from scientists."
Video – Pavlof Volcano erupted on Sunday
Ash in the air from the eruption could cause an airplane's engine to either malfunction or fail. An alert has been issued to all aircraft in the area.