While Pfizer faces British lawmakers regarding the company's proposed acquisition of AstraZeneca, Ian Read, Pfizer's CEO, said his company acted with integrity. He claimed complaints that Pfizer has a bad record regarding jobs and investments globally are based on a misunderstanding of what truly happened.
The Business, Innovation and Skills Committee is taking evidence from Ian Read, Pascal Soriot (AstraZeneca's CEO), and lawmaker Vince Cable (Business Secretary).
There is concern about jobs from both sides of the Atlantic. The governors of Maryland and Delaware in the US said they are very concerned about the potential deal and possible job losses in their states.
Pfizer deal bad for British interests?
UK politicians across the political spectrum have warned that a Pfizer AstraZeneca deal could undermine British interests.
When the Committee Chairman put to Mr. Read that Pfizer is like a "shark that needs feeding" or a "praying mantis", Pfizer's CEO responded that he is very proud of his 35-years' work in the firm, describing it as a "company of high integrity focused on patients and delivering drugs to patients."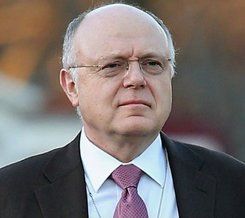 When asked about Swedish Prime Minister Fredrik Reinfeldt's comments on the negative consequences of Pfizer's acquisition of Pharmacia, Mr. Read said they were based on "misunderstanding of the facts" regarding strategy and a pledge that a factory would be built if an experimental drug received regulatory approval.
Read said "Having set the facts right, I'm not concerned (by the comments made by the Swedish Prime Minister)."
If Pfizer acquires AstraZeneca, Mr. Read went on to say that expenditure on R&D  would be less than the total of the two separate companies today. When companies merge, he explained, efficiency is increased and the new company is more competitive in a fiercely competitive marketplace.
Mr. Read, who warned that the UK's second-largest pharmaceutical company could wither without Pfizer's financial muscle, said:
"We'll be efficient by some reduction in jobs. What I cannot tell you is how much or how many or where. We'll look at this as our global combined footprint and then we'll make decisions."
Merger a reputational risk
AstraZeneca's chairman, Pascal Soriot, told the Committee that Pfizer's plan to acquire AstraZeneca and then move its headquarters to the UK to cut its tax bill poses a reputational risk.
Soriot said:
"The proposed tax inversion structure, we are afraid, could generate substantial controversy and potentially delay this merger and potentially impact the reputation of our company."
Pfizer has suggested it may raise its bid if AstraZeneca is willing to engage in further talks. Mr. Read expressed disappointment at AstraZeneca's refusal to discuss the proposed merger. He did not rule out a hostile bid. On May 2nd AtraZeneca turned down a new Pfizer offer of £62.9 billion ($106 billion) or £50 ($84.47) per share.
Block the takeover, British union leaders urge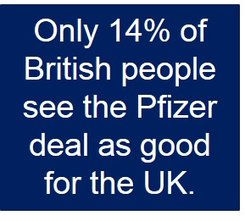 Only 14% of the British general public believe Pfizer's proposed acquisition of AstraZeneca is in the best interest of the UK, trade union Unite reported today. The Survation poll of the UK's largest union warned Prime Minister David Cameron that he risks alienating Conservative voters "and is out of step with public opinion."
On its website today, Unite wrote:
"According to the survey over three quarters (77 per cent) of Conservative voters believe all takeovers of this magnitude should be subject to a 'public interest' test, compared to a total across all voting intentions of 74 per cent."
Unite general secretary, Len McCluskey said:
"The British public isn't being fooled by Pfizer's proposed takeover of AstraZeneca and has a complete lack of confidence that the government has British interests at heart. Pfizer's track record is one of slashing jobs and cutting costs and its 'guarantees' could evaporate at any moment. As it stands it's the wrong prescription for Britain. The takeover bid is motivated by a desire to use the UK to minimize its tax liabilities while getting its hands on AstraZeneca's drug portfolio."
"David Cameron is in danger of once again misjudging the public mood and being on the wrong side of opinion. The British public wants to see the government cheerleading for British science, British skills and British jobs – not for takeovers that shed jobs and damage UK manufacturing."
Assistant General Secretary of Unite, Tony Burke, told UK lawmakers that 65,000 AstraZeneca (AZ) jobs have been cut since 2005. He added that AZ employees are very concerned about Pfizer's jobs record.
Mr. Burke said "They are concerned that not only would they face job losses, but that skills and scientific expertise would be dissipated."
National Officer of another union, GMB, said Mr. Read's guarantee on jobs and investment is worthless. "You don't really buy a second-hand car if the guy says 'I'm giving you a guarantee but, hey, if things change the guarantees are null and void'. I tend to treat employers on what they do, rather than what they say," he added.
In an interview with the BBC, Professor Sir Paul Nurse, President of the Royal Society, said a 5-year pledge on research is not enough time. "They need to look at a 10-year horizon at least if they are actually going to make an important impact on this area and produce the medicines that will help people," he said.
A sweeter offer by Pfizer?
Analysts expect Pfizer to come back with a better offer, possibly later this week. However, the world's largest drugmaker is unlikely to make its next move before the parliamentary hearings are concluded.
UK parliament select committees do not have to power to block business transactions, but they can grill executives ferociously, as several companies found to their cost, including Rupert Murdoch's News Corp.
The Committee interrogations are watched by the general public and reported in detail by the UK's ruthless media.
Pfizer reported a 15% decline in profits during the first quarter of 2014 compared to Q1 2013. Analysts say the company is facing serious problems after years of building up cash, scaling down research and ending up with very few new products on the horizon.
Video – Merger a distraction for AstraZeneca
Pascal Soriot tells the Committee that the proposed merger by Pfizer could delay some vital AstraZeneca projects.