Ten racing pigeons equipped with special backpacks are monitoring London pollution and posting their readings of atmospheric concentrations of contaminants on Twitter. In fact, if you tweet to them details of where you are in London, they will swiftly tweet back with data on the air quality there.
Plume Labs, which provides data on the air quality of virtually every major city in the world, is launching the first ever flock of pigeons across London to monitor pollution.
The project was created together with global marketing and technology firm DigitasLBi, plus support from Twitter.
Pollution refers to substances, chemicals, and anything else in the environment that should not be there and may cause harm.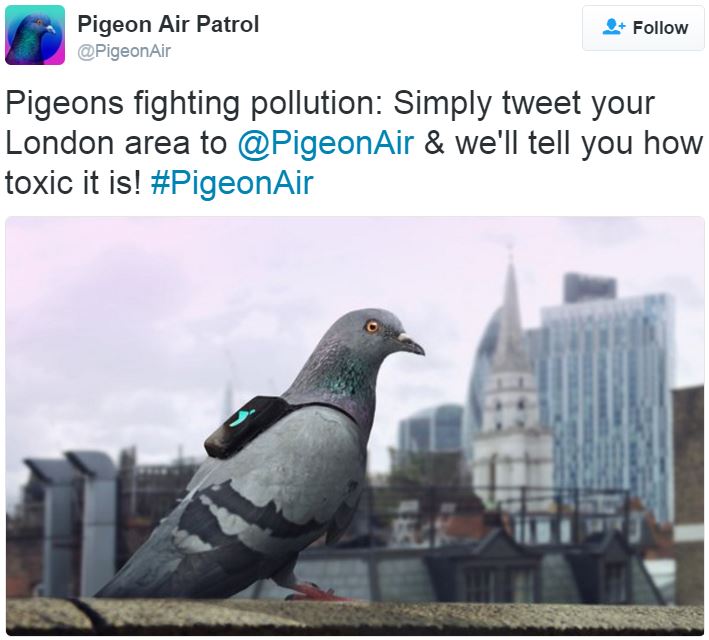 Pigeons have been saving human lives for centuries, from carrying urgent messages to military command requesting backup for desperate soldiers, to helping us today tackle levels of pollution which kill tens of thousands of people every year. (Image: twitter.com/PigeonAir/status)
Called the Pigeon Air Patrol, Plume Labs' unique sensing technology tracks air quality in the UK's capital city and reports back via Twitter.
If you are in London, you can ask for pollutant concentrations in your area via the handle @PigeonAir – you will receive an instant response from one of the pigeons.
---
---
Sensing devices
The ten-pigeon army is equipped with tiny backpacks loaded with devices that measure nitrogen dioxide (NO2) and ozone (O3). They are released once daily for three consecutive days, rapidly gathering data around London during the rush hour.
Brian Woodhouse, a multi-award-winning pigeon expert works together with Plume Labs. Mr. Woodhouse makes sure the birds are safe, comfortable and treated humanely.
After each sortie the pigeons come home to roost, hang up their backpacks, and eagerly await their next mission. (Image: twitter.com/PigeonAir/status)
Throughout history, pigeons have helped us carry critical messages across the skies. According to Plume, having them fly with the tiny backpacks was not an easy task.
Plume Labs wrote:
"Our engineering team has been hard at work to bring the best of technology to Coco, Julius, Norbert and their friends."
---
---
Tiny ultra-light sensors
The sensing devices measure air pollutants that can harm human health if levels are too high, such as NO2 (mostly from diesel) and O3 (from the transportation of urban pollutants).
These state-of-the-art devices were created with two things in mind: 1. To cover a wide range of parameters. 2. To be extremely small and light so that birds could carry them comfortably.
And we're off! The first #PigeonAir patrol flies from Brick Lane, monitoring air pollution as we go! pic.twitter.com/W8KnyrxnCe

— Pigeon Air Patrol (@PigeonAir) 14 March 2016
Plume significantly reduced the size of key parts of an air quality sensor, which today is a tracker measuring just 2 x 1.5 x 0.5 inches. "And because pigeons care about comfort, we created lovely backpacks that leave them complete freedom of movement," it added.
The following message has been sent to us from pigeonairpatrol.com:
"The nice HR team at Plume Labs takes very good care of us. Our backpacks are as light as a feather, and a vet's on hand to double check we're safe and sound. So don't worry, we love flying, we're pigeons after all."
You can download a free 'Plume Air Report' app from either AppStore or Google Play to find out what you are breathing and how to protect yourself.
You can join the Air Patrol
Plume Labs is looking for 100 people to beta test its new pollution sensor, in partnership with Imperial College London.
If you are a runner, pram pusher or cyclist, who would like to know what you are breathing and how best to beat pollution, you should consider joining its programme to test a wearable version of a new pollution device.
Video – Pigeon TLC