According to NASA, February 2016 was the warmest month ever, with the global average temperature 1.35°C higher than the long-term average, and 0.2°C hotter than the previously most abnormally warm month ever recorded (January 2016).
NASA's February temperature data, which was released on Saturday, confirms unofficial reports released earlier in March that our planet is currently undergoing a dramatic increase in temperature.
Does this mean that the temporary slowdown in global warming that occurred at the turn of the century is now over, and warming has returned with a long-term vengeance? The only sure way to answer that question is to wait and see.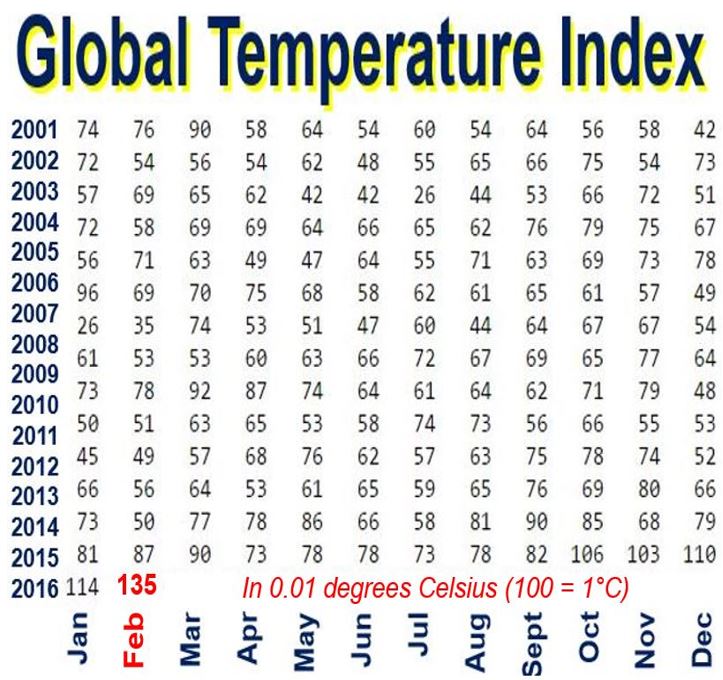 February's figure was far higher than for any of the other months (compared to 1951-1980 base period). (Image: adapted from data.giss.nasa.gov)
February was 'special', says expert
Climate scientist, Gavin Schmidt, Director of NASA's Goddard Institute for Space Studies, which maintains NASA's temperature database, tweeted "Normally I don't comment on individual months (too much weather, not enough climate), but last month was special."
NASA's worldwide temperature data is measured from a 1951-to-1980 baseline approximately 0.3°C higher than just before the industrial revolution. February's data shows that it was the first month since records began when the global average temperature exceeded the 1.5°C mark.
---
---
Northern hemisphere abnormally warm
Much of this abnormal warmth came from exceptionally high temperatures in the Northern Hemisphere and the Arctic, which were 2.76°C and 5.36°C warmer than the 1951-1980 baseline respectively.
Scientists across the world are saying that February's global average temperature probably hit a more than 1,000-year record (for that month).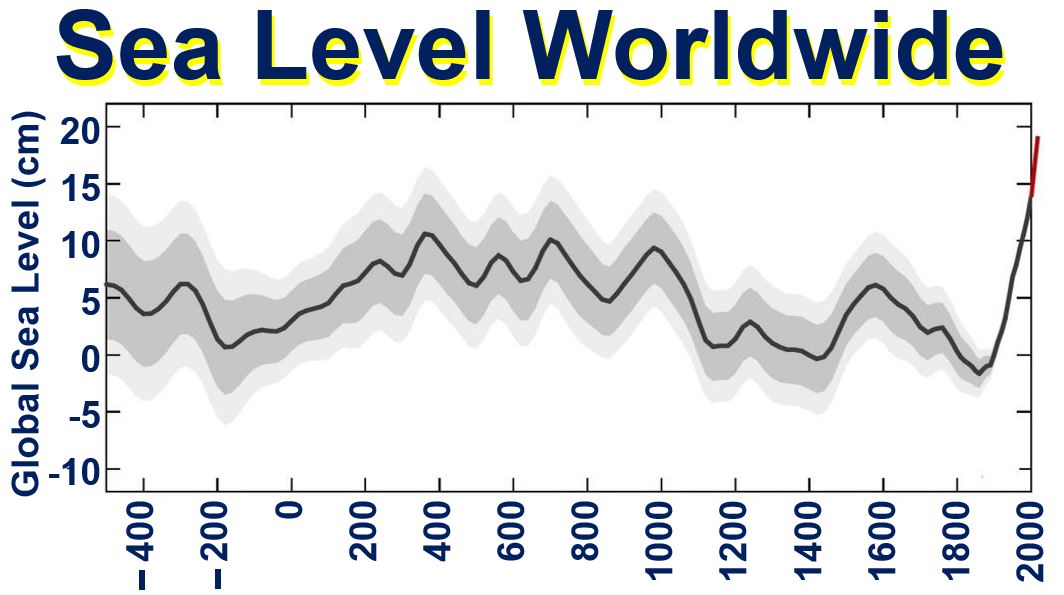 Reconstruction of the global sea-level evolution based on proxy data from several different parts of the world. The red line illustrates the further global increase since the turn of the century by 5 to 6 cm from satellite data. With the recent accelerated global warming, the red line will have an even steeper incline. (Image: realclimate.org)
Nobody can predict with certainty whether this recent surge in rising global temperatures is a temporary blip or a long-term trend. A growing number of experts fear that this is a sign of things to come, i.e. we are just at the prelude of a tendency that will continue and accelerate for the rest of this century.
---
---
If global warming is starting to accelerate, the ice in the Arctic and Antarctic regions will probably melt at a much faster rate than anyone has so far predicted, which would result in more pronounced sea level rises and consequent flooding in low-lying areas like the Netherlands, Bangladesh, Florida, the Yucatan Peninsula, many island states in the Pacific Ocean, and several other regions.
Greenhouse gas emissions have been growing apace in recent years. Last year we saw the largest yearly increase in CO2 (carbon dioxide) since records began – significantly exceeding what our planet has experienced for several hundreds of thousands of years.
A Goddard Institute for Space Studies analysis of anomalies (departures from average) in global surface temperatures in February 2016. See how red and dark red the Northern hemisphere and Artic regions are compared to south of the equator. (Image: NASA/GISS).
Meteorologists Jeff Masters and Bob Henson made the following comment in the blog Weather Underground:
"This result is a true shocker, and yet another reminder of the incessant long-term rise in global temperature resulting from human-produced greenhouse gases," blogged meteorologists Jeff Masters and Bob Henson at Weather Underground."
"Averaged on a yearly basis, global temperatures are now around 1.0°C beyond where they stood in the late 19th century, when industrialization was ramping up."
Video – What is global warming?