Two allegedly drunk pilots were arrested at Glasgow Airport on Saturday. As the United Airlines aircraft prepared to fly 141 passengers to Newark, New Jersey, USA, two pilots, aged 45 and 35, were arrested on suspicion of being under the influence of alcohol.
According to Glasgow Airport Police, concerns were raised regarding the state of the two pilots. The two men will appear at Paisley Sheriff Court on Monday. Police officers went into the plane's cockpit to arrest the two men.
A new crew took charge of flight UA162, which had been scheduled to take off at 9am on Saturday. The aircraft departed on Saturday evening.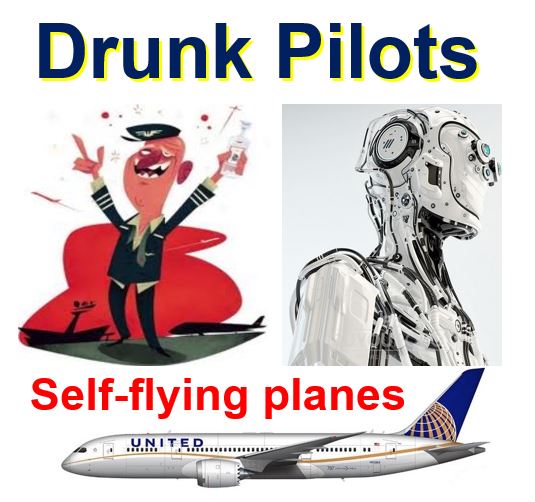 What percentage of drunk pilots are arrested, and how many are never caught? One sure way of making sure nobody could ever fly a plane while under the influence of alcohol is to have self-flying passenger jets.
Police confirm pilots' arrest at Glasgow Airport
A spokesperson for Police Scotland said:
"Police Scotland can confirm that two men aged 35 and 45 have been arrested and are presently detained in police custody in connection with alleged offences under the Railways and Transport Safety Act 2003, Section 93."
---
---
ITV News quoted a Glasgow Airport spokesperson who said:
"We are aware of the police incident yesterday involving two pilots."
Chicago-based United Airlines Inc., the world's largest airline when measured by number of destinations served, announced that the two pilots had been removed from service and their flying duties.
According to Fox News, one pilot is caught drunk during or just before his/her flight in the USA each month. The FAA (Federal Aviation Administration) says the incidence of drug and alcohol abuse among pilots is growing.
A United spokesperson said:
"We are co-operating with the authorities and will conduct our own investigation as well. The safety of our customers and crew is our highest priority."
In July 2016, two pilots – Zafar Syed and Jean-Francois Perreault – were arrested at Glasgow Airport and charged with being drunk shortly before boarding an airplane bound for Toronto in Canada.
The Canadian pilots were released on bail and will have to return to court at a later date.
Earlier this week, a co-pilot was arrested at Michigan airport because he was too drunk to fly (see video below).
Self-flying airplanes
Search engine giant Google is not only one of the pioneers in the race for getting self-driving cars on the road, it is also looking into getting self-flying passenger jets into the sky.
According to Dave Vos, head of Google's Project Wing, passenger aircraft should be controlled by robotic drones instead of human pilots in the future.
At the moment, most passengers say they would never travel in a plane with no human passenger on board. Perhaps this may change as self-drive cars become more common and the number of accidents, especially drink-driving related ones, starts to plummet.
Self-flying airplanes would never have the risk of navigating under the influence of alcohol.
On its website, Project Wing writes:
"On August 28, 2014, an automated Project Wing plane delivered portable radios and water bottles to farmers in Queensland, Australia. Since then, we've been back in California refining our design and communications tools, and planning our next round of test deliveries for this transportation platform."
Video – Co-pilot arrested for drunk flying
Police at Michigan airport arrested a charter plane co-pilot because he was too drunk to fly.