Plans for a £1.3bn tidal lagoon in Swansea Bay have been backed by a thorough independent review commissioned by the government.
Tidal lagoons generate electricity from the natural rise and fall of the tides. The Swansea Bay tidal lagoon project would involve a 'U' shaped breakwater, built out from the coast with a bank of hydro turbines in it – 16 hydro turbines, a six mile breakwater wall, generating electricity for 155,000 homes.
Tidal Lagoon Power has proposed to start the project in 2018 and estimates that it would take four years to complete.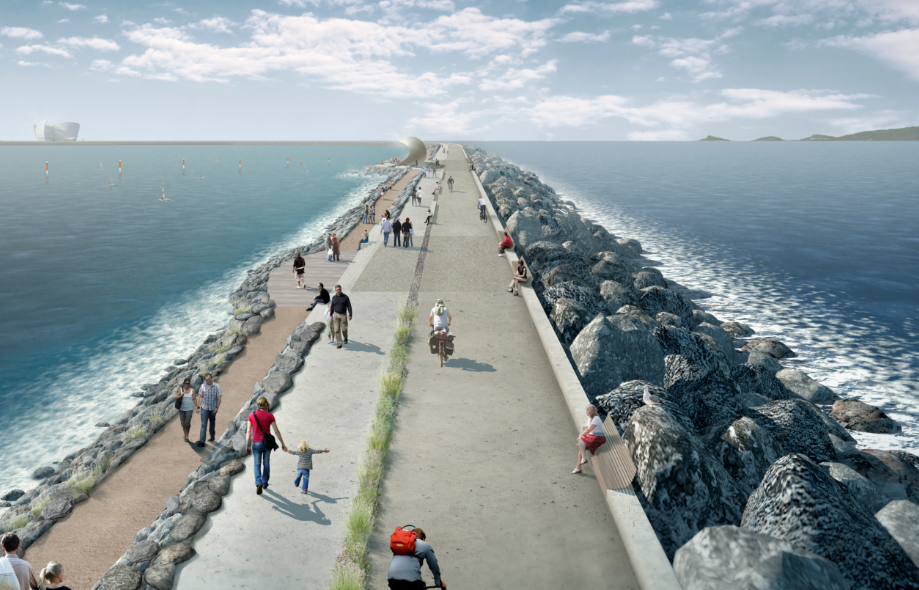 Former energy minister Charles Hendry said in his review that tidal lagoons could make a "strong contribution" to Britain's energy supply, adding that the technology is cost effective and would bring "significant economic opportunity" for Wales and the UK.
Hendry concluded that going ahead with development of a tidal lagoon off the Swansea coast should be considered a "no regrets" policy.
---
---
Mr Hendry told the BBC: "If you look at the cost spread out over the entire lifetime – 120 years for the project – it comes out at about 30p per household for the next 30 years. That's less than a pint of milk.
"That's where I think we can start a new industry and we can do it at an affordable cost to consumers."
After 60 years of operation, electricity generated by the tidal lagoon would be "subsidy free", said Mr Hendry. He added that because of the long lifespan of proposed tidal lagoon projects such as Swansea Bay, the technology comes out favourably against other forms of power generation in terms of cost-effectiveness.
The lifespan of tidal lagoon projects should be considered, "otherwise you are trying to compare a project that lasts for 30 years with a lagoon that lasts for 120," Mr Hendry told the BBC.
---
---
Mark Shorrock, Tidal Lagoon Power chief executive, commented on Hendry's review:
"This is an exemplar of a well-managed, timely and thorough independent review. We thank Charles and his team for their positive and professional endeavour throughout the process.
"With the publication of the Hendry Review we've hit 'peak consensus.' "Home-grown power from the tides, starting at Swansea Bay, is something we can all agree on: communities and investors, conservationists and industrialists, politicians of all persuasions and now an independent government review, all singing from the same hymn sheet.
"Swansea Bay Tidal Lagoon is a vision of how Great Britain can replace part of our ageing power station fleet with low cost, reliable power that also revitalises our industrial heartlands and coastal communities.
"When we pay our electricity bills, we are mostly supporting other countries' energy industries and other countries' workers. It doesn't have to be that way. Tidal lagoons will generate electrons that work for Britain and bring down bills.
"The Hendry Review has set the final piece of the jigsaw in place: a watershed moment for British energy, British manufacturing, British productivity and our coastal communities. We look forward to working with Ministers and Officials to bring this new industry to life."