The conservation status of pollinating mammal and bird species is deteriorating, with more species today moving in the direction of extinction than away from it, a new study by IUCN, BirdLife, Sapienza Università di Roma in Italy, and the United Nations Environment Programme (UNEP) World Conservation Monitoring Centre informed this week.
In recent decades, an average of 2.4 mammal and bird pollinator species annually have moved towards extinction in the IUCN Red List category, which represents a significant increase in extinction risk across this set of species.
The study has been published in the academic journal Conservation Letters (citation below) of the Society for Conservation Biology.
The Regent Honeyeater has fewer than 400 individuals left in the wild in Australia.
Lead author, Eugenie Regan, of UNEP's World Conservation Monitoring Centre, said:
"Our study is the first global assessment of trends in pollinators. It shows a worrying trend that may be impacting negatively on global pollination services, estimated to be worth more than US$215 billion."
Nearly one tenth of birds and mammals are pollinators
Of all the mammal and bird species that exist today, nine percent are known or inferred to be pollinators. The principal pollinators among mammals are bats, which pollinate a huge number of ecologically and economically important plants such as cacti and agave.
Principle pollinating birds are honeyeaters, hummingbirds, white-eyes and sunbirds.
About 90% of all flowering plants are pollinated by animals. We are heavily reliant on several of the plants they pollinate for food, livestock forage, materials, medications, and other purposes.
Co-author Dr Stuart Butchart, who conceived the study and is Head of Science at BirdLife International, said:
"Pollination is one of a suite of benefits ('ecosystem services') that nature provides to people. This is the first time the Red List Index approach has been applied to show trends in a set of species that deliver a particular ecosystem service."
"The results provide yet further worrying evidence that unsustainable exploitation of the natural environment by humans will come back to bite us."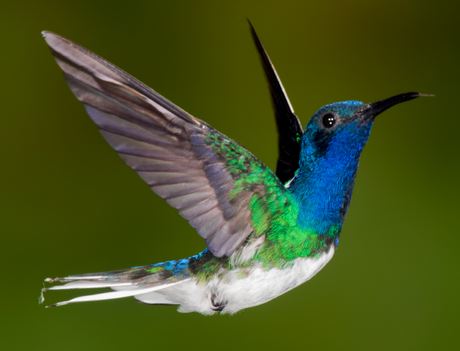 Humming birds are well known pollinators.
Unsustainable agriculture the main culprit
The main cause for the decline of a significant proportion of bird and mammal pollinators was found to be habitat loss from unsustainable agriculture.
Hunting for bushmeat has considerably reduced large-bodied fruit bat populations. Bird populations have been affected by the impacts of invasive alien species.
From 1988 to 2012, a total of eighteen pollinator bird species have been 'up-listed' to a higher threat of extinction category.
The Regent Honeyeater (Xanthomyza Phrygia), for example moved from Endangered to Critically Endangered during that period due to accelerated population decline as a result of drought, habitat loss resulting from historic clearance of agriculture, and (possibly) competition with other species.
Not one bird species during that 24-year period qualified for 'down-listing', i.e. to lower categories of threat.
Thirteen pollinating mammal species between 1996 and 2008 were up-listed to a greater threat category, while two species qualified for down-listing (lower threat).
The Choco Broad-nosed Bat (Platyrrhinus chocoensis), for example, moved from Vulnerable to Engangered, mainly because of habitat conversion to cocoa farming.
Non-flying mammal pollinators, such as the Sunda Slow Loris (Nycticebus coucang) shifted from Near Threatened to Vulnerable due to pet trade haversting and habitat loss.
Thanks to conservation programmes which provide protection, the Pemba Flying Fox (Pteropus voeltzkowi) improved from Critically Endangered to Vulnerable.
To determine the worldwide status of pollinating mammals and birds, the research team used the Red List Index (RLI).
European bee species threatened with extinction
A report earlier this week warned that 9.2% of all Europe's wild bee species are threatened with extinction as a result of modern farming practices and global warming, which have significantly reduced the number of flowers in the continent over recent decades.
The authors added that 5.2% of all European wild bee species could disappearing completely 'in the near future'.
Jean-Christophe Vié, Deputy Director of the IUCN Global Species Programme, said:
"This assessment is the best understanding we have had so far on wild bees in Europe. However, our knowledge about them is incomplete as we are faced with an alarming lack of expertise and resources. Bees play an essential role in the pollination of our crops."
"We must urgently invest in further research in order to provide the best possible recommendations on how to reverse their decline."
The authors reported that 7.7% of wild bee species populations are declining, 12.6% remain unchanged, while 0.7% are growing. For the remaining 79% there is not enough data to determine.
Citation: "Global Trends in the Status of bird and Mammal Pollinators," Eugenie C. Regan, Luca Santini, Lisa Ingwall-King, Michael Hoffmann, Carlo Rondinini, Andy Symes, Joseph Taylor and Stuart H.M. Butchart. Conservation Letters. DOI: DOI: 10.1111/conl.12162.