Prince Philip, the Duke of Edinburgh, says he sees engineers solving global problems again, something they have often managed to do throughout history. Problems caused by a growing human population and its dependence on fossil fuels will be solved following major engineering breakthrough, he believes.
Prince Philip told guest editor, former CEO of BP Lord Browne: "The whole of our infrastructure, from sewers to power supplies and communication – everything that wasn't invented by God – is invented by an engineer."
According to the husband of Queen Elizabeth II, engineering contributed significantly to the post-war recovery and would help solve future challenges.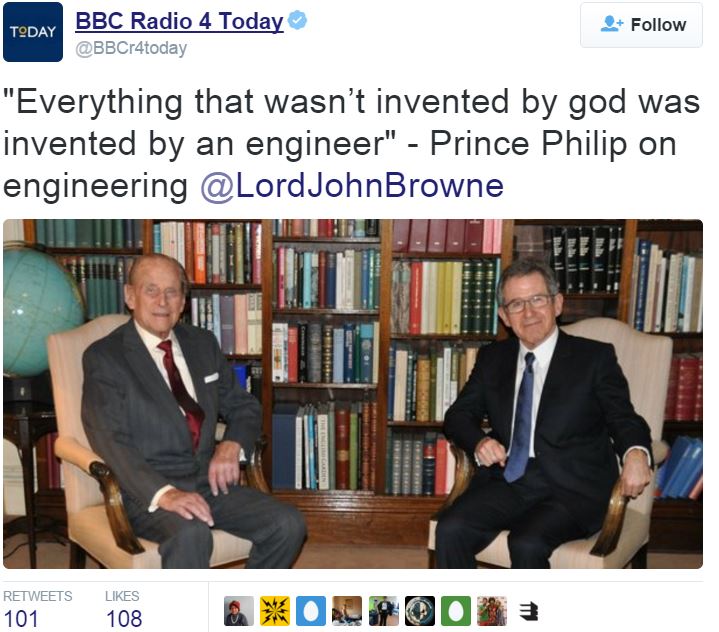 Prince Philip, who worked in the Royal Navy during WWII and shortly after, has always been interested in engineering R&D. (Image: twitter.com/BBCr4today)
He said engineers performed such a crucial function that it was impossible to imagine life without them.
The Duke said:
"The human population of the world is growing and is occupying more space. It's got to be accommodated somehow or another and I think most people would like to see that it accommodates a certain amount of the natural world as well as the human world and everything we require to keep it going."
---
---
"But somehow or other that balance, to try and fit as many people onto this globe as comfortably as possible without doing too much damage, I think ultimately its going to be engineers that decide that."
Engineering helped re-build post-war economy
The Duke of Edinburgh, who has been interested in technological and scientific research and development in industry throughout his life, explained that after the Second World War "we were completely skint, seriously badly damaged" when engineering aided in the process of rebuilding the post-war economies.
Looking ahead at the challenges and problems posed by a massive and growing world population, Prince Philip said:
"But somehow or other that balance to try and fit as many people onto this globe as comfortably as possible without them doing too much damage – I think ultimately it's going to be engineers who are going to decide that."
When asked whether scientists in other fields viewed engineers as second-rate, he said he assumed there was a certain amount of anxiety and jealousy as to whether engineers might be higher up the ladder.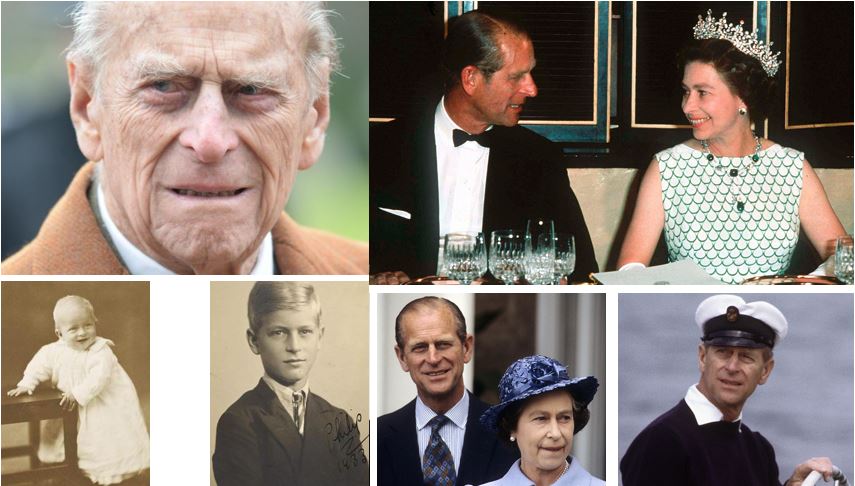 Prince Philip, Duke of Edinburgh (born 1921) is the longest-serving consort of a reigning British monarch and the oldest-ever male member of the British royal family.
He says he finds it 'curious' that there is no Nobel Prize for engineering.
Prince Philip 'saved engineering in the 1970s'
Lord Browne said Prince Philip, whose love of engineering remains undimmed, saved the profession in the UK in the 1970s, describing him as a key mover in the creating of a national engineering academy.
Lord Browne said of the Duke of Edinburgh:
"His views are clear, forthright and, as usual, to the point. When I asked him about innovation, he tells me that engineering is the only way to make new ideas relevant."
"When he talks of our planet he says that, in an increasingly crowded world, engineering is the only thing that can maintain the balance between nature and human ambition."
Prince Philip said the following regarding the purpose of engineering: "To make things better."
The Duke of Edinburgh is President of the the Smeatonian Society of Civil Engineers, founded in 1771, originally known as the Society of Civil Engineers. It is the oldest engineering society in the world.
Queen Elizabeth Prize (QEPrize) for Engineering
He also chairs the Queen Elizabeth Prize (QEPrize) for Engineering. Every two years, an international £1 million prize is awarded to the engineer or team of engineers responsible for an innovation that has been of global benefit to humanity.
The QEPrize for 2015 was awarded to Dr. Robert Langer, the first person to engineer polymers to control the delivery of large molecular weight drugs for the treatment of several diseases, including cancer and mental illness.
Dr. Langer's lab has created technologies that have improved the lives of more than 2 billion people. Robert S. Langer is the David H. Koch Institute Professor at the Massachusetts Institute of Technology.
Video – The Duke: A portrait of Prince Philip