Private sector jobs increased 220,000 from March to April in the US, according to figures published in April's ADP National Employment Report. The report measures the change in total non-farm employment every month on a seasonally-adjusted basis.
Goods-producing jobs increased by 24,000 in April, compared to a 28,000 gain in March. Construction added 19,000 jobs in April versus 21,000 the month before. Manufacturing added just 1,000 jobs compared to 4,000 in March.
Most job gains in service sector
Employment in the service sector rose by 197,000 in April compared to 181,000 the month before. According to the report, professional/business services added the most jobs, 77,000 compared to 67,000 in March.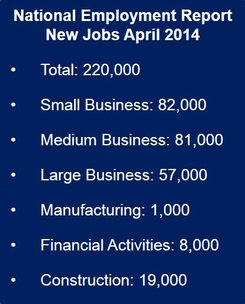 Trade, transportation and utilities employment grew by 34,000 jobs, approximately the same as March's 35,000. Although financial activities employment increased by just 8,000, it was the fastest pace of growth in the industry in nearly one year.
Small companies driving jobs growth
Job growth for smaller companies, those employing up to 49 workers, increased by 82,000 compared to 81,000 in March, nearly reaching the 12-month average of 84,000.
Among the medium-sized firms, those with 50 to 499 workers, 81,000 new jobs were created, the largest increase since December 2012.
Employment in large companies (500+ employees) rose by 57,000 versus 71,000 in March.
Increase well above average
Carlos Rodriguez, president and CEO of ADP, said:
"The 220,000 private sector jobs added in April is well above the twelve-month average. Job growth appears to be trending up and hopefully this will continued."
Chief economist of Moody's Analytics, said:
"The job market is gaining strength. After a tough winter employers are expanding payrolls across nearly all industries and company sizes. The recent pickup in job growth and mid-sized companies may signal better business confidence. Job market prospects are steadily improving."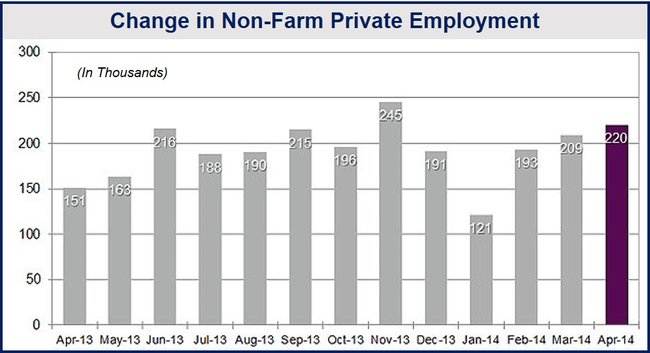 (Source: ADP Research Institute)
Market Watch quoted Neil Dutta, head of U.S. economics at Renaissance Macro Research, who wrote in a research note "[ADP showed] a solid pace of job growth and will no doubt keep the Fed on their baseline policy outlook."
US Gross Domestic Product (GDP) for the first quarter of 2014 grew by just 0.1%. Although analysts had expected a slow start to the year, given the abnormally harsh winter weather conditions, figures were well below forecasts.