The stimulus cut continues, says the Federal Reserve (Fed). US accelerating economic growth has allowed the US central bank to trim its monthly asset buying by another $10 billion, bringing the total purchase each month of agency mortgage-backed securities and longer-term Treasury securities to $45 billion.
This is the fourth consecutive month that the Fed tapers the stimulus program by $10 billion. Further tapering in "measured steps" are likely, the US central bank added.
Growth picking up after sharp fall
According to the Federal Open Market Committee (FOMC):
"Growth in economic activity has picked up recently, after having slowed sharply during the winter in part because of adverse weather conditions. Labor market indicators were mixed but on balance showed further improvement."
Despite recent improvements, the FOMC adds that the unemployment rate remains too high.
It added that household spending is increasing more rapidly, business fixed investment has dropped, while the housing sector recovery appears to have lost impetus.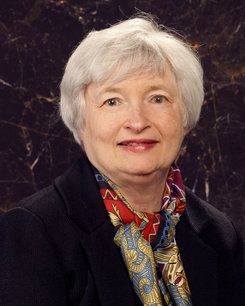 Fiscal policy is holding back economic growth, the FOMC explained, although its restraining effect is diminishing.
Long-term low inflation could undermine growth
Although recent inflation figures are below the FOMC's longer-term target, "longer-term inflation expectations have remained stable."
The FOMC, which has a dual mandate – to foster maximum employment and price stability – expects that with the right policy accommodation, GDP will expand at a moderate pace and employment figures will continue rising gradually, "moving toward those the Committee judges consistent with its dual mandate."
The Fed warned today that persistently low inflation – below its 2% annual target – could harm economic performance. It says it is watching inflation developments carefully for evidence that it will return to its objective over the medium term.
The broader economy is not yet strong enough to support enduring improvement in labor market conditions. "In light of the cumulative progress toward maximum employment and the improvement in the outlook for labor market conditions since the inception of the current asset purchase program, the Committee decided to make a further measured reduction in the pace of its asset purchases," the central bank wrote today.
As from the beginning of May:
Purchases of agency mortgage-backed securities will be reduced to $20 billion per month, rather than the current $25 billion.
Purchases of longer-term Treasury securities will go down to $25 billion per month, rather than the current $30 billion.
Taper likely to continue
If the economy continues expanding, which appears likely, employment keeps rising, and inflation does not fall, the Committee will continue reducing its monthly purchases of bond purchases. The FOMC added, however, that "asset purchases are not on a preset course."
Fed chair Janet Yellen is enjoying a rare period of calm. All nine FOMC members voted unanimously on the changes announced today. There are usually 12 voting members, but currently there are three Fed board governor vacancies.
The following members voted for the FOMC monetary policy action:
Janet L. Yellen, Chair; William C. Dudley, Vice Chairman; Jerome H. Powell; Daniel K. Tarullo; Richard W. Fisher; Jeremy C. Stein; Narayana Kocherlakota; Sandra Pianalto; and Charles I. Plosser.
US economic growth slowed down dramatically during the first quarter of 2014, to an annual rate of 0.1% compared to the previous quarter's 2.6%. According to the US Commerce Department, abnormally harsh winter weather conditions were partly to blame.
A report published by the ADP Research Institute revealed that 220,000 non-farm private sector jobs were created in the US in April.
Video – Stimulus cut continues, says Fed