The US Bureau of Labor Statistics informed on Friday that producer prices dropped 0.2 percent in May, after rising 0.6% in April and 0.5% in March.
April's producer price increase was mainly driven by a 2.7% rise in the cost of food, which declined by 0.2% in May.
The Producer Price Index rose 2% in May 2014 compared to May 2013.
Less pressure on the Fed?
Falling produces prices and sluggish economic growth during the first quarter of 2014 may alleviate concern from central bankers.
Prices of energy, food and trade services (which measures retailers' and wholesalers' margins) all declined in May compared to April. A measurement that excludes those three components showed prices remained unchanged, an indication that inflation may be low. However, the decline was not sufficient to alter perceptions that inflation pressures are mounting.
Most economists had expected May producer prices to rise slightly. They believe May's fall is a correction after the increases in March and April, and are still convinced that prices are firming.
As the Federal Reserve (Fed) rolls back on its bond-buying stimulus program it is closely monitoring inflation gauges. Analysts say the Fed sees the current US economic rebound as weak and will not consider increasing interest rates until at least the middle of next year.
Central bank wants higher inflation
The US and Eurozone central banks want higher inflation, saying that it would be a sign of healthy demand, while falling or stagnant prices signal weakness. They both have an annual inflation target of 2%. In April 2014, US inflation stood at 1.6% (annual), while in the Eurozone it declined to 0.5% from 0.7% in April.
Fed officials meet on Tuesday/Wednesday to review their monetary policy and assess the country's economic health. Most likely, they will announce that inflation is nearing their 2% target.
While the price of wholesale gasoline declined in May, it will probably rise because of the unrest in Iraq. The recent increase in oil prices will filter through to the economy over the next few months.
What is the Producer Price Index?
The Bureau of Labor Statistics' Producer Price Index (PPI) is a collection of indexes that gauges the average change over time in prices received (price changes) by producers for goods, services and construction.
The PPI is a measure of price change from the seller's perspective. It is different from other measures, such as the Consumer Price Index (CPI), which measures prices changes from the buyer's perspective.
US economic indicators have been mixed, with:
sluggish consumer spending,
strong employment growth,
falling industrial output,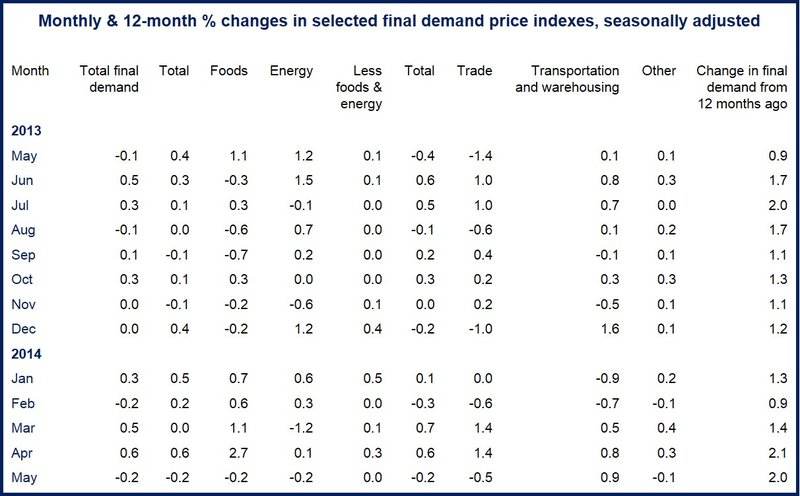 (Source: US Bureau of Labor Statistics)