British Columbia is slapping on a new 15% property transfer tax on foreigners who buy a home. Expert trade lawyer, Barry Appleton, warns that such a protectionist move could trigger a trade war with the United States and China. Others, however, believe this will not happen and that measures are urgently needed to put the brakes on rapidly-increasing property prices, especially in Metro Vancouver.
Mr. Appleton says the new British Columbia (B.C.) legislation could be a prelude to a flood of lawsuits from individuals who say the new tax discriminates against investors because they are foreign, which violates NAFTA (North American Free Trade Agreement).
According to Mr. Appleton, China may become concerned about the consequences of a 15% property transfer tax on its home-buying citizens – they will wonder whether it might spur additional tax and tariff actions within Canada.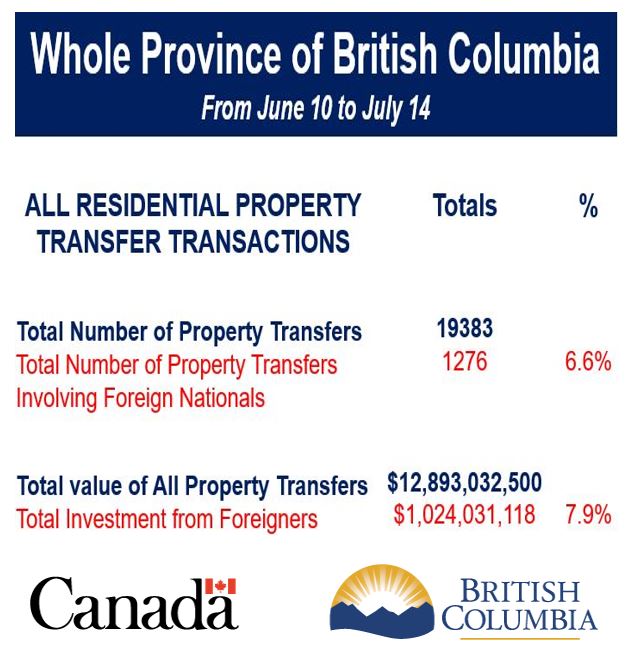 Across the whole province of British Columbia, foreigners represented 6.6% of the total number of property transfers and 7.9% of their total value. (Data Source: news.gov.bc.ca)
However, another expert, Keith Head, a trade economist who works at the University of British Columbia's Sauder School of Business, does not believe the property transfer tax will lead to undesirable international reactions.
China's government may like the property transfer tax

Prof. Head, HSBC Professor in Asian Commerce, explains that the majority of NAFTA disputes involve companies and not individual people. He adds that the authorities in China may like this new tax, because it might encourage its citizens to keep their money at home rather than investing abroad.
---
---
Christina Joan Clark (Christy Clark), Premier of British Columbia, claims her government has consulted with legal experts and is sure the law can withstand legal challenges.
The aim of the transfer tax is to damp down price gains in places like Vancouver, one of North America's hottest property markets – an area that has received in excess of C$1 billion (US$760 million) in foreign money over a period of five weeks.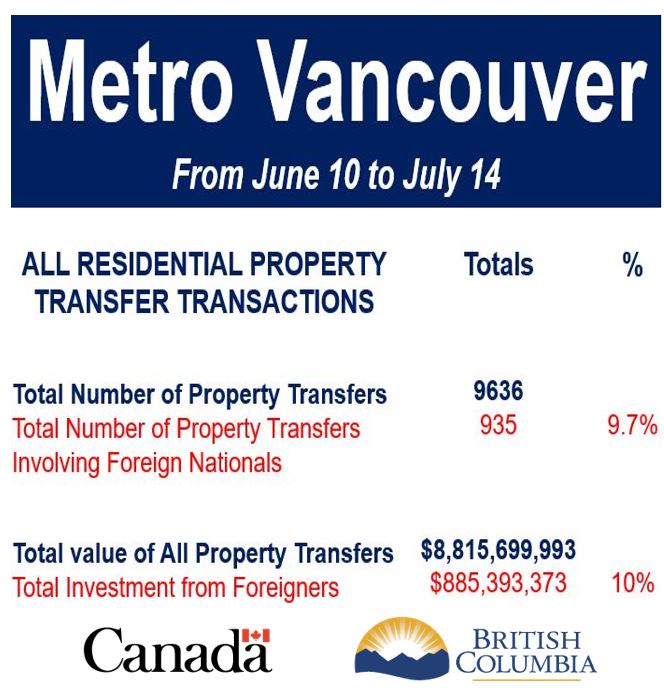 Foreign buyers are pushing up property prices in Vancouver. A growing proportion of local residents are unable to get onto the property ladder and are having to commute longer and longer distances. (Data Source: news.gov.bc.ca)
The property transfer tax will come into effect on August 2nd, and will mean that foreigners will be liable for an extra C$300,000 levy on a C$2 million property.
Other countries have done this
Canada is not alone in slapping additional levies on foreign buyers to cool the domestic housing market. Governments in Hong Kong, Australia and the UK have done the same.
---
---
When a country or area of a country, such as Vancouver, London or Geneva is flooded with foreigners buying property, homes can become too expensive for local people to purchase. Most of London is out of reach for first time buyers.
In Vancouver, the price of a typical detached house increased by 38% in June compared to 12 months earlier to C$1.6 million.
Michael de Jong, British Columbia's Finance Minister said:
"While investment from outside Canada is only one factor driving price increases, it represents an additional source of pressure. This additional tax on foreign purchases will help manage foreign demand while new homes are built to meet local needs."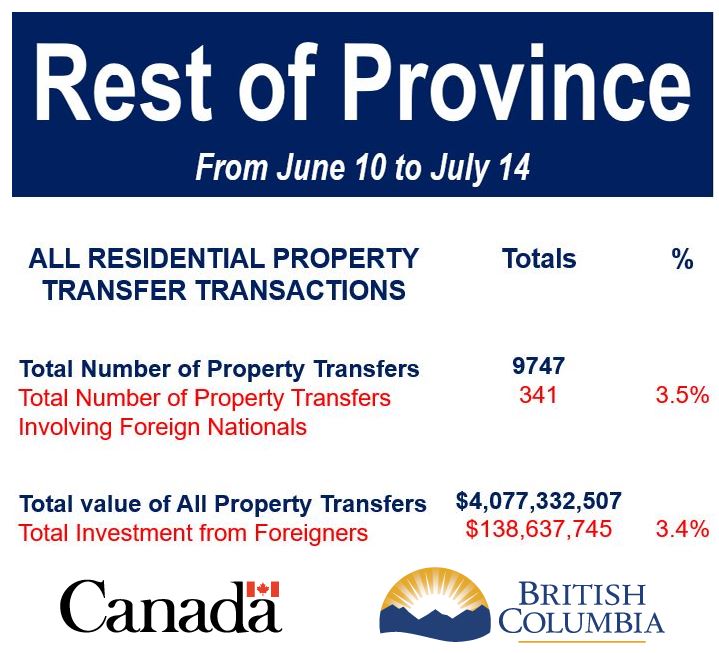 Foreign home purchasers are clearly more interested in Vancouver than the rest of British Columbia. (Data Source: news.gov.bc.ca)
Between June 10th and July 14th, foreigners invested over C$1 billion in residential property in British Columbia. Nearly ninety percent (86%) of that money was invested in the Vancouver metropolitan area.
According to the Government of British Columbia, from June 10 through to July 14:
– Of the 19,383 residential property transactions in British Columbia, 1,276 involved foreigners.
– 6.6% of all property transactions involved a foreign home-buyer.
– Foreign nationals invested a C$1,024,031,118 during that period, i.e. 7.9% of the total.
– 49.7% of real estate transactions across the province occurred in the Metro Vancouver area.
– 73.3% of all transactions by foreign home buyers occurred in Metro Vancouver.
– Of the C$8.8 billions' worth of homes bought in Metro Vancouver, $885,393,373 came from foreign buyers.
– The average Canadian citizen or permanent resident bought a Metro Vancouver home for C$911,425, while the average foreign buyer paid C$946,945.
Source: Housing Market Information – Update: June 10 – July 14, 2016.
The Government of British Columbia wrote on its website:
"While foreign investment in residential real estate markets is only one factor driving price increases in Metro Vancouver, it represents an additional source of pressure on a housing market struggling to build enough new homes to meet demand."
"The Province's additional tax on foreign purchases will help manage foreign demand while new homes are built to meet local needs."