British Airways owner IAG said it has been hurt by several adverse events including terrorism, strikes, the 23rd June Brexit vote plus the economic uncertainty it triggered, and the decline in the value of the pound sterling following the referendum result. All these undesirable events combined have hurt the company's profits.
IAG (International Consolidated Airlines Group, S.A.) which owns British Airways, Iberia, Aer Lingus, IAG Cargo, and Vueling, said it has had to cut its forecasts and growth plans.
The company said that during the first half of 2016 it continued to experience a weaker trading environment in its UK point-of-sale business, which accounts for approximately one third of total revenue.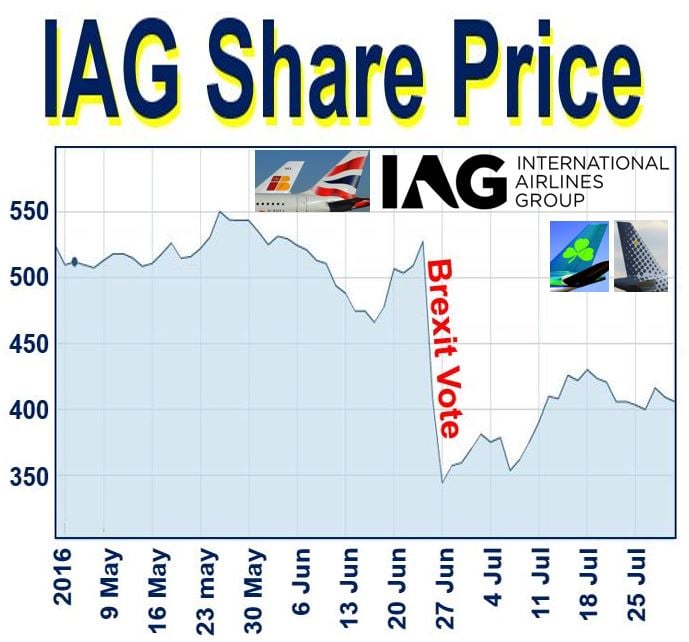 The news that Britons had voted to leave the European Union sent the members of the Boards of Directors of all UK airlines running for cover. (Data Source: uk.finance.yahoo.com)
Pound sterling profits, when translated into euros will be lower, given that the British currency is today worth 11% less than it was before the Brexit vote.
Like its competitors in Europe, IAG's operations around Europe have recently suffered from air traffic control strike disruption and adverse weather conditions which have resulted in the cancellation of more than one thousand flights.
---
---
Disruption costs of at least €80 million are expected to be booked in the second half of the year, with the additional risk of revenue dilution, IAG added. Vueling, its Spanish low-cost subsidiary airline will be more severely affected than other operating companies, because IAG's short-haul flights have had to bear the brunt of the disruption.
IAG focussing on bringing down costs
In a press release, IAG wrote:
"We continue to intensify our long-established cost control and capacity discipline. Cost initiatives currently in the planning stage will benefit our earnings from 2017. However, we also expect reductions in underlying non-fuel unit cost of around 1 per cent at constant currency in 2016 (the same as our previous guidance)."
"This is on top of very significant fuel cost reductions as our historic hedges unwind. We have reduced our planned capacity growth for the second half of the year, and have 2017 capacity growth and capex under review."
According to International Airlines Group, it is "One of the world's largest airline groups with 533 aircraft flying to 274 destinations and carrying almost 95 million passengers each year. It is the third largest group in Europe and the sixth largest in the world, based on revenue." (Image: iairgroup.com)
IAG's CEO, Willie Walsh, said:
"We're reporting another strong performance in quarter 2 with an operating profit of €555 million before exceptional items which is up from €530 million compared to last year. Excluding Aer Lingus it would be €487 million."
---
---
"Our performance this quarter saw a negative currency impact of €148 million, primarily due to the weak pound. Numerous external factors affected our airlines including the impact of terrorism, uncertainty around the UK's EU referendum and Spain's political situation and increased weakness in Latin American economies."
"This led to a softer than expected trading environment, especially in June. In addition, the airlines' operations have been considerably disrupted by 22 air traffic control strikes in Europe so far this year. This has impacted our passenger revenues."
IAG's non-fuel unit costs declined by 1.1%, however they are 0.8% up at constant currency, following the significant cost reductions achieved last year.
Even though most of the company's planned capital expenditure for 2016 occurred during the first half of the year, cash was €705 million higher than at the end of the last financial year.
Mr. Walsh added:
"In the half year, we made an operating profit of €710 million before exceptional items compared to €555 million in 2015. Excluding Aer Lingus it was €668 million."
For the third quarter, IAG says it already has 74% of its expected revenue booked. Based on today's fuel price and currency levels, and given its high visibility over H2 cost reductions, the company expects low double-digit percentage growth in pre-exceptional operating profit in 2016.
IAG added:
"We expect full year equity free cash flow to be within our long-term €1.5 billion to €2.5 billion range. This provides a high degree of coverage for ongoing ordinary dividends."
Brexit bad news for airlines
The Brexit vote knocked down airlines' share prices across the UK and nearly the whole of the European Union. IAG shares are today worth 22% less than on 23rd June, while rival EasyJet's are 34% down.
The Telegraph quoted Gerald Khoo of Liberum, who said:
"The UK referendum decision to leave the European Union puts the airline industry firmly into uncharted territory."
As soon as it was known that Britons had voted to leave the European Union – 24th June – IAG warned of a weaker-than-expected trading environment due to the economic uncertainty the vote would cause.
Several other European airlines have warned of hard times because of Brexit and economic uncertainty, air traffic control strikes and terrorism. Germany's Lufthansa and the UK's EasyJet both issued pessimistic updates on performance earlier this month.
However, Irish low-cost airline Ryanair said it was willing to enter a price war to fill its growing aircraft fleet.
Video – A very British airline
Even though this BBC documentary is two years old, much of it is still relevant today.