With an abundance of opportunities available, acquiring a decent financial corpus suddenly is not a big feat these days. However, you would have come across certain people that have acquired sudden wealth for the first time but are unable to manage it in the long run.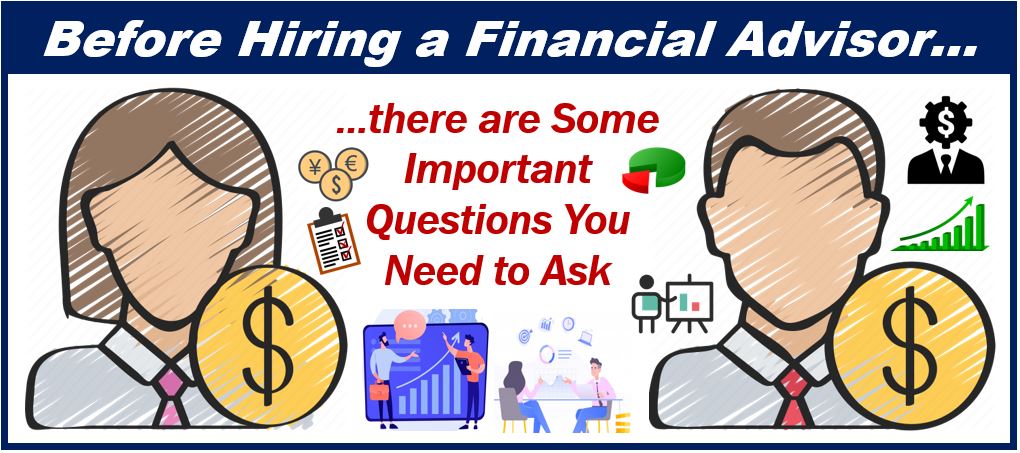 There are a lot of decisions involved while making investments and to decide where to and where not to invest your money and whom to trust to help you in such a scenario.
Hiring a financial advisor might lower your burden to some extent; however, finding the right one that syncs with your investment goals is quite an intimidating task. What all qualities should you look for while hiring a financial advisor? Would he be worth your money?
You have to interview a decent number of financial advisors before finalizing one. You would certainly don't want to meet a potential financial advisor unprepared. So, before you go ahead to interview one, here are eleven questions you can ask the potential candidates. These questions will ultimately help you weed out a bad egg, and clarify what are you actually looking into a financial advisor:
1. What are your qualifications and experience?
While you are engaging one financial advisor, her/his degree has a very limited role to play here. The most crucial thing is that s/he should possess a Financial Planner certification awarded by 'The Financial Standards Board of India'. It is considered the principal licensing body in the country. This certificate authenticates the knowledge and experience of the advisor.
2. How do you charge for the services you offer?
You should be aware of the fact that whether your adviser is charging assets percentage under management or charging a straight fee or lower fee if you are not getting the proper financial services.
3. What kind of services do you offer?
See, there are different kind of planner or adviser available on the financial horizon. So, you should better focus on the advisors who can understand your goals and needs. Some of the advisors only provide investment and wealth management advice. However, if you are looking forward to achieving your investment goals, you need to seek the whole package including insurance, goal-linked investments, taxation, budgeting and planning for real estate.
4. Do you get paid incentives for selling products?
This question is very important as it leads you to either better or lower position. If the advisor is paid incentives or fee for selling the products, you need to know that there would be some fishy activities or risks involved. They often push you to purchase the product.
5. What kind of clients do you handle?
If the clients of the advisor are corporate and high net worth individuals, there are chances you won't get the expected level of services by your planner. You should look for a stable planner who can concentrate on your concerns and can give you proper time.
6. How can I communicate with you when I need to?
Communication is very important as it helps both the party. It is important to find out who you are dealing with. At the same time, it is also crucial how frequently you are communicating with your advisor. The communication can be taken place through email, SMS or phone call in times of emergency.
7. May I get a sample of a financial plan?
You should ask for a reference plan from your financial advisor for your financial planning. Make sure to go through the reference plan attentively so that you can understand the details and can take a holistic approach towards implementing your plan.
8. How often do you update the plan?
If you get the answer – annually – from your advisor, you are good to go. You can also discuss with your advisor about different life stages such as marriage, career change, kids, divorce and pre-retirement plan.
9. What is your objective or the philosophy of investment?
The investment strategy must be managed and handled by an expert professional team. The investment policy entirely depends on your requirement. The advisor must know the pros and cons of the investor and ensure him or her with fructification of their dreams by giving proper advice.
10. How do you calculate the returns?
The calculation is very crucial as the return is concerned here. The advisor should take into consideration the taxes, inflation rate and the fees while calculating the returns. Otherwise, you will be misled by the planner and will miss your ultimate financial goal.
11. Will you maintain transparency when needed?
The advisor should be able to make you understand the details of your financial planning in a lucid and simple way. If the advisor is not able to convey his or her thoughts in a clear manner, it is better for you to set him aside.
Final Thoughts
All in all, choosing the wrong financial adviser can be fatal for your financial corpus as it can lead to possibly losing everything you have accumulated through your hard work. These aforementioned questions will pay you in the long run as they will eventually help you understand who you are dealing with and whether the person is the type of professional you're actually looking for.
---
Interesting related article: "What is the Financial Market?"