A rare beaked whale with mysterious teeth found washed ashore on a beach in South Australia is probably an evolutionary throwback, say marine zoologists from the South Australian Museum.
The beaked whale was found dead in February on Waitpinga beach, about 10 kilometres (6.2 miles) southwest of the city of Victor Harbor. Scientists were confounded by two mysterious teeth, which had never been seen before in deep-diving beaked whales.
Researchers at the South Australian Museum appealed to their counterparts across the world to help them identify the enigmatic animal, including the renowned Smithsonian Institute in Washington D.C., USA. However, nobody has yet explained why the whale has the small, pointy vestigial teeth.
It is very unusual to find a beaked whale on a beach, they tend to live deep down in the ocean. To find a female with teeth erupting above the jawline is something never seen in modern beaked whales. (Image: twitter.com/samuseum)
Australia's state-owned national public broadcaster – ABC (Australian Broadcasting Corporation) – reported that scientists do not believe the teeth are a deformity, but rather an evolutionary throwback, i.e. a feature that reappears after disappearing several generations ago.
Dr. Catharine Kemper, a Senior Research Scientist at the South Australian Museum, told the broadcaster that the teeth, which have never been seen erupting above the jawline in modern female whales, were very odd – something she had never seen before.
---
---
"My mind was thinking, 'Do we have something new here?'," said Dr. Kemper, who moved to Australia from Canada in 1971.
After stripping the whale skull clean, David Stemmer, Collections Manager at the Museum, pulled out the tooth and was amazed to find the bigger tooth of a Hector's beaked whale underneath.
The Hector's beaked whale (Mesoplodon hectori) is a small mesoplodont that lives in the Southern Hemisphere.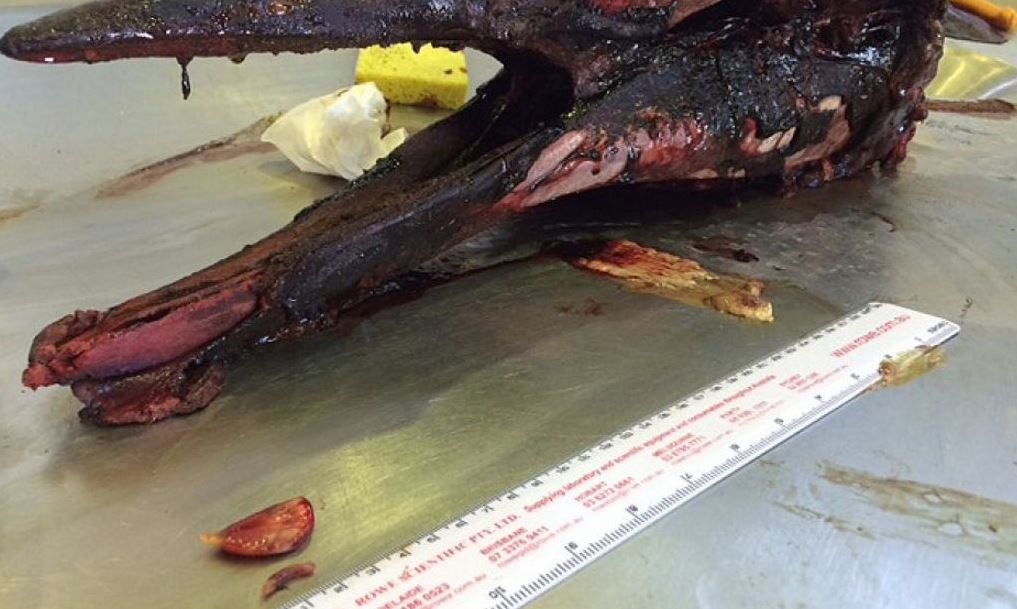 The scientists said they had never seen teeth erupting above the jawline. (Image: South Australian Museum)
Sightings of Hector's beaked whales are very rare due to their elusive behaviour, deep-ocean distribution, and likely low numbers.
In an interview with ABC, Mr. Stemmer, who came to Australia from Germany in 2000, said:
"It was still exciting and although we now knew we had a species we know, it's a species we don't get very often and it's only the third specimen we have collected here in South Australia."
---
---
Scientists at the Museum hope that the cataloguing of the whale carcass will help unlock the mystery of the teeth and tell us more about the species.
To be able to conserve little-known species, we depend on these kinds of revelations, said Dr. Kemper.
Dr. Kemper added:
"Without that knowledge, it's just very difficult to know what's going on and to monitor whether they're doing alright."
Video – Beaked whales breaching
Humans rarely get a chance to see beaked whales. They tend to stay deep down in the ocean, and are very elusive creatures.