An RBS Coutts selloff is being planned, a move that could raise £600 million ($1 billion) for the UK bank. Coutts , where the Queen has her account, is located in the UK, Cayman Islands, Monaco, Isle of Man, Jersey, Dubai, Singapore, Montevideo, Hong Kong, Geneva, Berne and Zurich.
The Royal Bank of Scotland bought Coutts in 2000 when it acquired NatWest.
Potential bidders already interested
Several potential buyers around the world are said to be interested in acquiring either all or part of Coutts, one of the world's oldest banks (founded in 1692).
Reuters quotes unnamed sources claiming to have knowledge of the operation who say there are offers from bidders in Asia and North America.
RBS says it plans to sell of the overseas part of the company, thus splitting the bank in two, one UK-based (which would remain within RBS) and the other possibly Zurich-based. The international unit manages assets worth approximately £20 billion.
RBS focusing on domestic market
RBS, which is 84% owned by the UK taxpayer after bailing it out with ₤45 billion in 2008, is being pressed by the UK government to reduce its international footprint.
In an internal memo to staff, the bank wrote:
"We will work with local management teams to explore options including merging the remainder of the current Coutts International business, considering joint ventures or a sale, thereby reducing RBS's footprint internationally."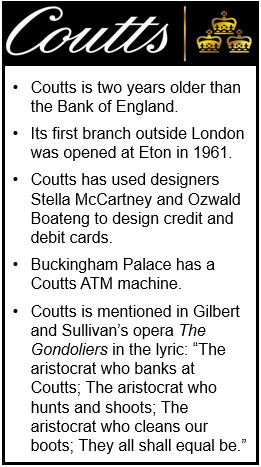 "There are no immediate changes for individuals in these businesses and it is important that we continue to work together to deliver for our customers."
According to the memo, Coutts' international business makes up about 41% of the bank's high net-worth operation's assets and liabilities and approximately 35% of its income.
In March 2012, the Royal Bank of Canada bought Coutts' African, Latin American and Caribbean private banking arms.
RBS has undergone a major overhaul aimed at paying back British taxpayers and eventually returning to private ownership. In July, the bank posted a surprise pre-tax profit of £2.65 billion ($4.5 billion) for the first six months of 2014.
RBS is also planning to divest itself of Citizens bank in the United States and Ulster Bank in Ireland.
Private bank vs. private banking
Private banking is a service offered by banks for wealthy individuals, usually people with more than $500,000 in investable money.
A private bank is one that belongs to one person or a group of partners and is not listed in a stock exchange.
Both private banks and publicly-listed banks might have a private banking division.
The bank for the rich and famous
Until the 20th century, Coutts was a bank for the aristocracy and landed gentry. Today, it is a wealth manager for a much wider range of clients, including top executives, professionals, sports professionals, entertainers, and entrepreneurs. Current clients include Queen Elizabeth II and David Beckham.
Clients have included the Duke of Wellington, Lord Nelson, The Beatles, Frédéric Chopin, Lord Byron and Queen Victoria.
To be accepted as a client you must have non-real estate assets of at least £1 million ($1.68 million). It is seen as a bank for the rich and famous of British society.
The Coutts selloff plan comes just months before a likely US fine for helping Americans dodge taxes. About 100 Swiss private banks are also being investigated for the same illegal activity.
Coutts was fined ₤8.75 million for money-laundering offenses in 2012.