Renewable electricity generation jumped significantly in the UK in 2015, despite a deep cut in subsidies. Renewable electricity generation last year made up nearly one quarter (24.7%) of the overall electricity generated across the country, an increase of 28.8% on the previous year, when renewables accounted for 19.1% of Britain's electricity, the Department of Energy and Climate Change informed.
Solar PV (photovoltaic) saw especially strong growth, where total electricity generation grew by 86% from 2014 to reach 7.6 TWh in 2015.
Source: Department of Energy and Climate Change.
Renewable electricity generation 2015
– Total generation: 83.3.
– 2015 was 28.9% higher than 2104's 64.7 TWh.
– Bioenergy was 27.8% higher than in 2014.
– Wind generation increased by 26.4% versus 2014.
---
---
The Department of Energy and Climate Change wrote:
"Renewables' share of electricity generation was a record 24.7 per cent in 2015, an increase of 5.6 percentage points on the 19.1 per cent in 2014. Renewable electricity capacity was 30.0 GW at the end of 2015, a 21.9 per cent increase (5.4 GW) on a year earlier."
Scotland surpasses target
Over half of Scotland's electricity needs last year came from renewable sources, which pleased Ministers, who had set a target of 50%.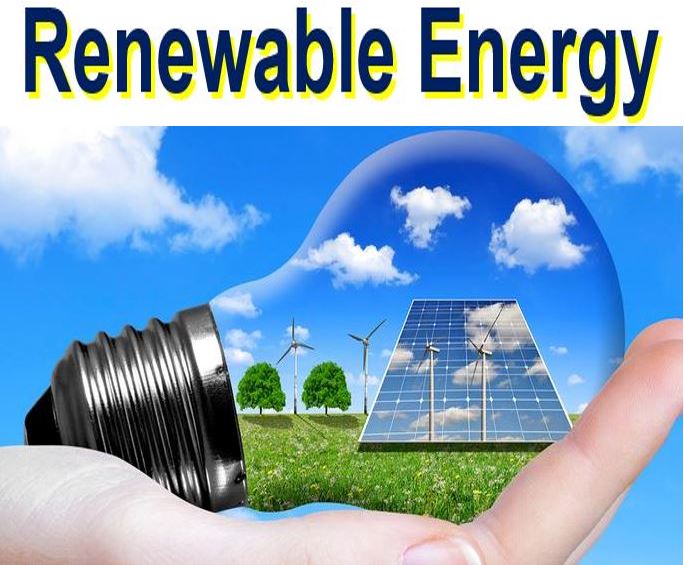 Renewable energy is energy which can be obtained from natural resources that can be constantly replenished, such as wind energy, solar energy, hydropower, ocean energy, geothermal energy, and bioenergy. (Image: oxfordmartin.ox.ac.uk)
According to a document released by the Department of Energy and Climate Change (DECC), renewables today in Scotland generate the equivalent of 57% of its power requirements.
Scotland's Government aims to have 100% of its electricity needs generated from renewable sources by 2020 – it is now more than halfway there.
---
---
Director of policy for Scottish Renewables Jenny Hogan, said:
"This is another important milestone for our industry and shows renewables are now a mainstream part of our power sector. There is still a huge amount of potential for future growth, if the industry is given the right backing by government."
Will UK meet its target?
The UK Government is committed to reaching a target of 30% renewable electricity by 2020 to meet its legally binding targets for the end of this decade. It looks likely the target will be met, given present growth rates, experts say.
An analysis by the Renewable Energy Association has revealed that this may not be enough. The Government's legally-binging 2020 targets for renewable energy include both transport and heat – two sectors where the Government is likely to miss its decarbonisation targets.
In order to meet the overall binding target, the electricity sector will need to reach from 44% to 45% sourced from renewables by the end of this decade.
To hit the 44% to 45% mark, 2015's renewable electricity growth rate would need to be repeated every year. Given the recent policy changes, the Renewable Energy Association thinks it is unlikely that the target will be reached.
The Committee on Climate Change has acknowledged in government committee hearings that Britain is likely to miss its transport and heat targets.
Lauren Cook, Solar Policy Analyst for UK Solar, a sector group of the Renewable Energy Association, said:
"The 62% increase in number of solar PV deployments since February 2015 is extraordinary and represents the success that is possible when a collaborative and supportive government policy is coupled with an innovative and driven industry."
"This increase took place under the old policy framework. The Government cuts that kicked in this January are beginning to bite- solar PV deployment from January to February 2016 was 92 per cent lower than between January to February 2015."
"We're looking to work constructively with Government to remove the many barriers to solar PV deployment that have been erected since the General Election. We are frustrated that these barriers, including the severe cuts to the Feed-in Tariff and proposed tax policy changes, will slow the uptake of solar, and ultimately delay the time it takes to reach cost-parity."
Total electricity production – from all sources – in 2015  declined by  0.4%,  from  338.9  TWh  a  year  earlier  to  337.7 TWh, with a considerable fall in generation from coal.
---
Video – Renewable Energy
Renewable energy is energy that comes from a source that never ends, i.e., it is everlasting.
---