British garden birds, specifically small insect-eating birds, have made a comeback thanks to the milder weather, says the Royal Society for the Protection of Birds (RSPB). However, starling numbers continue falling, a trend that has worried experts for more than three decades.
A bumper 8,262,662 birds were counted in January's Big Garden Birdwatch 2016, which reported that the house sparrow is the most common garden bird in the UK, followed by the starling and then the blue tit.
The long-tailed tit has made it back into the top 10 most observed garden birds, with recorded appearances increasing by 44% compared to last year.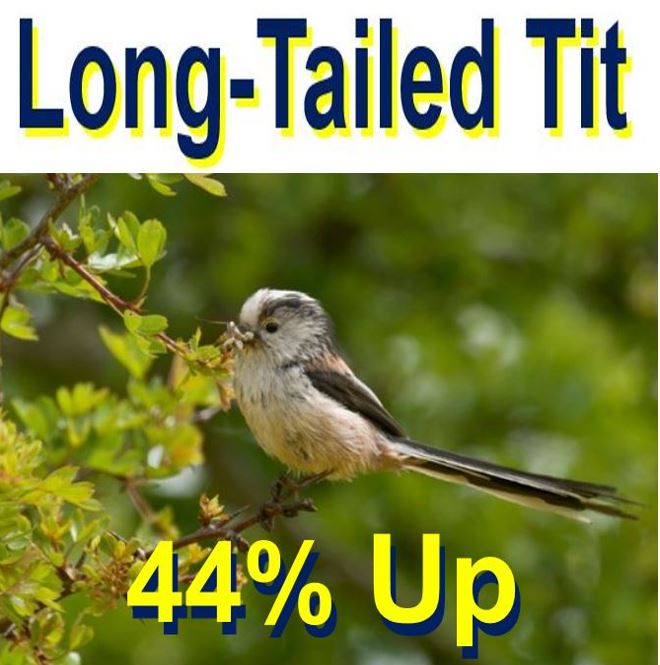 The Long-Tailed Tit, also called the  Long-Tailed Bushtit (Aegithalos caudatus), is an insect-eating bird, preferring the eggs and larvae of moths and butterflies. In the autumn it also eats vegetable matter. It has done extremely well this year. (Image: rspb.org.uk)
The coal tit and great tit have also benefitted from warmer weather.
After analyzing data from the 37th RSPB Big Garden Bird Watch, a number of interesting and exciting changes have been found.
---
---
Long-tailed tit hits top ten again
The long-tailed tit (Aegithalos caudatus), a tiny, round-bodied tit with a short, stubby bill and a very long, narrow tail, had been off the top ten since 2009.
A very social species, the long-tailed tit benefitted from the mild temperatures during the late-autumn and early-winter months leading up to January's Birdwatch. Over one quarter of British garden owners reported seeing the bird, said the RSPB.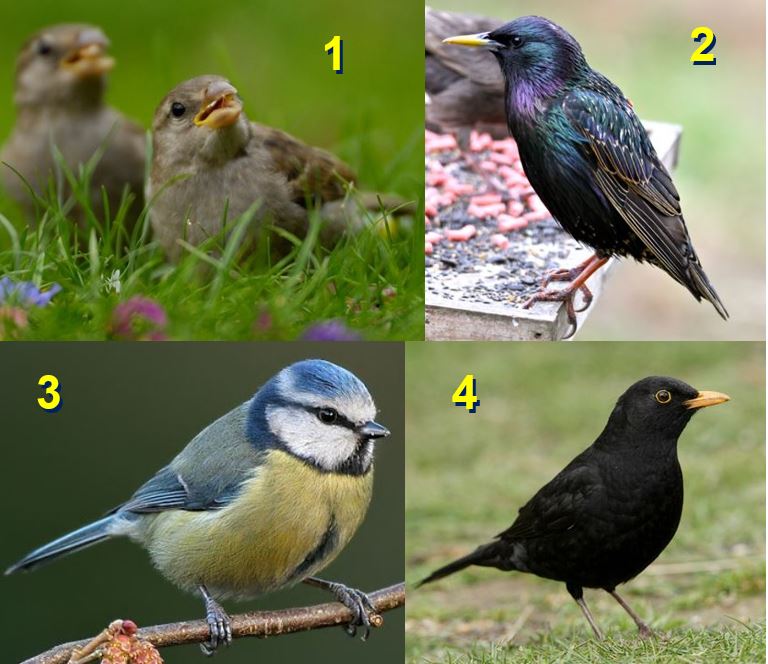 The four most commonly-sighted birds in British gardens (in order): 1. House Sparrow (Passer domesticus). 2. Starling (Sturnus vulgaris). 3. Blue Tit (Cyanistes caeruleus). 4. Blackbird (Turdus merula). (Images: RSPB)
Small birds and low temperatures
When temperatures are low during the winter months, the long-tailed tit as well as other small, insect-eating birds suffer. Getting at their food when the ground is very hard becomes difficult, and even more so when there is frost or snow on the ground.
RSPB Conservation Scientist, Dr Daniel Hayhow, said regarding the mild weather's impact on small bird numbers:
"This year's survey was another brilliant year for the Big Garden Birdwatch. More than half-a-million people took part counting a bumper 8.2 million birds, proving us with valuable data which helps to build a better picture of how our garden birds are doing."
---
---
"The weather can have varied effects on different groups of birds in terms of behaviour and habitats used. The increase in long-tailed tit sightings, along with other smaller garden birds, just goes to show that in the absence of very cold weather these species can survive the winter months in much great numbers."
"The warmer temperatures have made it easier to find food, like insects, which in previous colder winters would have been harder to come by because of frosts and snow."
Garden bird survival and garden feeders
During the winter months, when temperatures drop, birds struggle to find enough food and rely more on garden feeders.
Ben Andrew, RSPB Wildlife Advisor, said: "Rather than choosing unusual designs and materials, people should stick to traditional, wooden nest boxes; they really are the best and often the most cost effective. It's also really important to make sure boxes are sited in the correct place. People tend to forget that a nest box will eventually contain tiny helpless, vulnerable baby birds so the appearance of the box should be the last thing on your mind." (Image: RSPB)
Smaller birds have adapted to feeding on seeds and peanuts at hanging feeders and bird tables.
Garden feeders have probably partly helped boost great tit and long-tailed tit numbers, which since 2006 have increased by 13% and 52% respectively.
Well-stocked bird feeders are important for the winter survival of some species, Dr Hayhow said, who added:
"The increase in numbers of sightings of these smaller garden birds highlights the importance of a well stocked bird feeder for some species. Long-tailed tits only started using garden feeders in recent years, and now more people are spotting them in their gardens as this behaviour develops."
Starling and song thrush numbers worrying
Unfortunately, some common garden birds continue to struggle. This year's Big Garden Birdwatch revealed that sightings of some well-known species such as starlings and song thrushes have continued falling.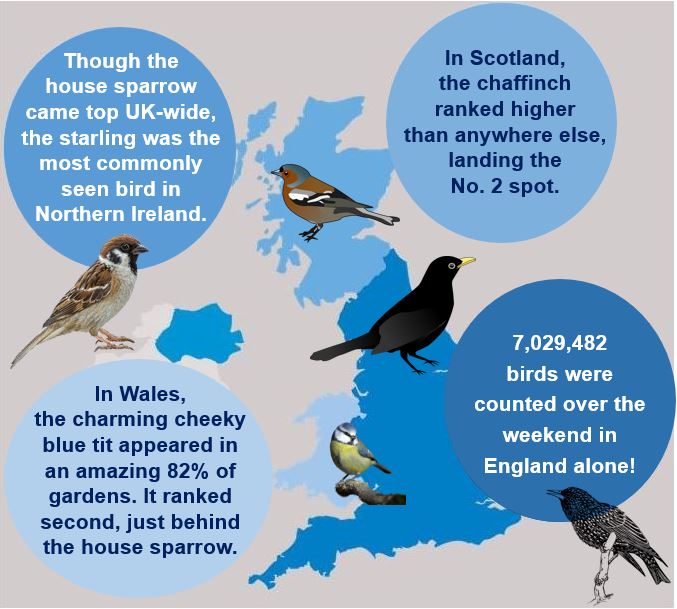 Bird populations vary slightly between England, Wales, Scotland and Northern Ireland. (Image: Big Garden Birdwatch 2016)
Starling and song thrush sightings have declined by 81% and 89% respectively since 1979, when the first Birdwatch was done.
RSPB Wildlife Advisor, Ben Andrew, said regarding our gardens:
"A lot of our favourite garden birds are struggling and are in desperate need of our help. Gardens or outdoor spaces are an invaluable resource for many species – they can provide a safe habitat and enough food and water to survive – which are likely to have a significant effect on their populations."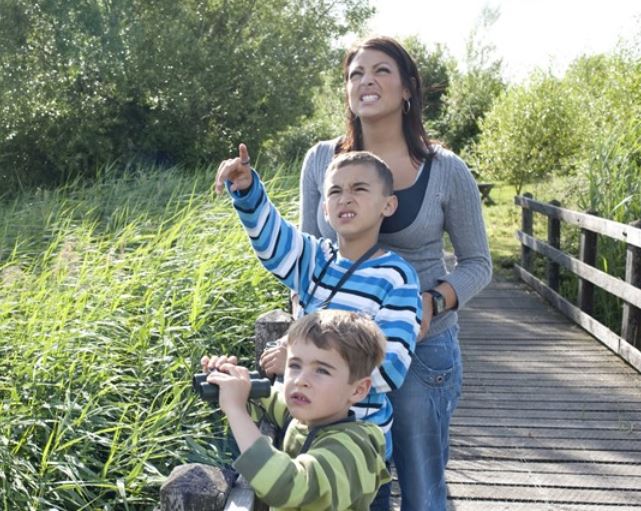 Children love nature projects. When organising your next Birdwatch event, or getting your garden bird-friendly, get your children involved. You never know, it could be the beginning of a lifetime passion. (Image: RSPB)
Record Big Schools' Birdwatch participation
The Big Schools' Birdwatch is a parallel event which takes places across the country. Record-breaking sightings were reported by children and schools. Over 90,000 pupils (a record) spent one hour in nature counting birds.
The blackbird was the most commonly-sighted bird among school-children for the 8th successive year. The starling came in second and the woodpigeon third.
The two giant events – the Big School's Birdwatch and the Big Garden Birdwatch – are part of the RSPB's Giving Nature a Home campaign, which aims to combat the housing crisis that the UK's threatened wildlife is facing.
The RSPB is calling on members of the public to make available a place in their gardens for wildlife. This could involve building a home for hedgehogs, creating a pond for frogs and aquatic wildlife, or putting up a nest box for birds.
Video – Making a nest box
In this RSPB video, a man is making nest boxes. He presents two types, one with a small hole for smaller birds, like tits and robins, and the other with a larger opening for a wider range of species. Go to this RSPB web page if you want to learn how to make your own nest box.