2014 will be a good year for the restaurant industry, the US National Restaurant Association forecasts. This year will be the fifth successive year of sales growth, says a new report – 2014 Restaurant Industry Forecast – released today.
Report authors expect sales to top $683 billion this year, 3.6% more than 2013's $659.3 billion.
Growth in restaurant industry employment is expected to be at a faster rate than overall employment growth this year, marking the 15th straight year in which this has occured.
The restaurant industry is the second-largest employer in the country, with 13.5 million workers employed in approximately 990,000 restaurants, or about 10% of the country's workforce.
Dawn Sweeney, president and CEO of the National Restaurant Association, said:
"As our nation continues its road to recovery, the restaurant industry will remain a key driver of economic growth and a leading jobs creator."
"Restaurants touch every community across the U.S., and 2014 will be a year of growth and innovation as the industry focuses on inspired new ways to meet consumer demand while providing valuable careers to millions of Americans."
Hudson Riehle, senior vice president, Research & Knowledge for the National Restaurant Association, said:
"Despite facing a range of challenges, America's restaurants are showing continued resiliency and innovation. As the industry enters its fifth straight year of real sales growth, operators are feeding consumer appetites with new technology, customer loyalty efforts, and evolving menu options."
"Consumers currently have a historically high pent-up demand for restaurant services, which is likely to translate into a business boost as the economy continues to improve – and our nation's foodservice operators are rising to the challenge."
Restaurant industry employment outlook
The National Restaurant Association (NRA) expects job growth of 2.8% this year in eating-and-drinking places, "a full percentage point above the projected 1.8 percent gain in total U.S. employment."
While overall US employment grew at 1.6%, eating-and-drinking places employed 3.3% more workers in 2013.
While employment growth in the restaurant industry is expected to be prevalent nationwide, in 2014 the western and southern regions of the US will continue to lead the way.
Texas and Arizona will see restaurant-and-foodservice employment growth above 15% between 2013 and 2023. Georgia (14.4%), Nevada (14.7%) and Florida (15%) will also experience above national-average growth.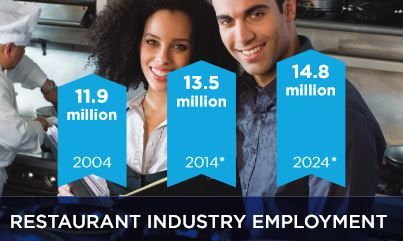 (Source: National Restaurant Association forecast)
Opportunities and challenges in 2014
According to the NRA, the main challenges restaurateurs expect this year are:
The economy.
Labor costs.
Food costs.
Wholesale food costs have been rising progressively over the last four years, a trend that is expect to continue throughout 2014, "putting significant pressure on restaurants' bottom lines as about one-third of sales in a restaurant goes to food and beverage purchases."
Nearly all limited-service and tableservice restaurants cited labor costs as the main challenge in 2013. The NRA says that will continue this year. "Challenges with ACA implementation and minimum wage increases across the country have made a significant impact on restaurant bottom lines, as typically one-third of restaurant sales is spent on labor."
Consumers are still partly stuck in their recession rut, a factor that weighs down on the restaurant industry's sales growth. In a survey last year, about 60% of consumers said they had cut back significantly on spending and described their finances as either fair or poor.
The NRA believes there is considerable pent-up demand for restaurant services among consumers.
Consumer Trends
Technology options are playing a greater part in consumers' decisions when choosing a full service restaurant, especially among younger adults. Twenty-four percent of 18 to 34 year-olds say they take into account a restaurant's technology when deciding where to go, compared to 11% of seniors.
When deciding on a limited-service restaurant, 33% of young adults consider the technology options compared to 7% of seniors.