Retail sales plummeted in the UK dramatically – at their fastest rate in four years – according to a survey carried out by the Confederation of British Industry (CBI) involving 132 companies, of which sixty-six were retailers. The British economy is highly dependent on consumer spending for economic growth.
The survey showed that sales volumes fell more rapidly than at any time since the first month of 2012. The driving factor has been declining consumer confidence after British voters opted for Brexit – Britain Exiting from the European Union (EU).
Retailers do not expect sales volumes to improve over the short-term, and predict that in the year to August business will continue to be sluggish.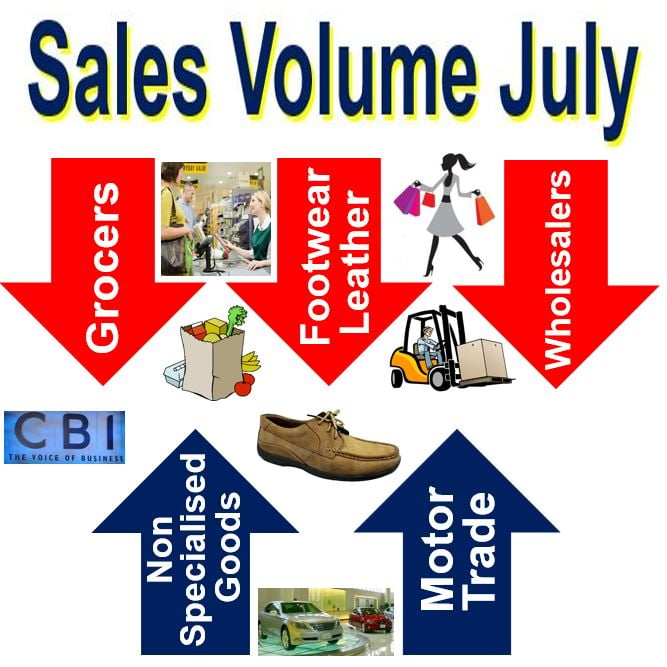 Economists and the referendum Remain campaigners were right when they warned that a Brexit vote would be bad for the British economy. We can now clearly see the first effects. Had we voted to remain in the EU, all the indicators above would have been blue arrows pointing upwards.

The main drivers of the decline in overall volumes among retailers were sales by furniture/carpet and grocery stores.
Not all shops posted falling sales. Retailers of footwear, leather goods and non-specialised department stores all posted higher volumes.
The motor trade also reported higher sales, albeit at a slower pace compared to earlier this year.
---
---
Wholesalers/suppliers reported overall declines
Suppliers said that orders have dropped faster than at any time since March 2009, and will most probably continue falling further in August.
Wholesalers also reported weaker sales – dropping at their fastest pace since April 2013. Wholesalers also expect business to continue declining next month.
CBI Chief Economist Rain Newton-Smith, said:
"While conditions in the retail sector have weakened, we should be careful about reading too much too soon, as consumers were likely to err on the side of caution in the immediate period following a vote to leave the EU."
Various economic figures are beginning to emerge after the Brexit vote. This one shows that the Purchasing Manager's Index has also declined. This means that manufacturing activity is shrinking. ((Source: ONS, Markit, CIPS)
"Current low levels of inflation and high overall employment should support consumer spending in the near term, although the impact of lower sterling is likely to feed through to higher inflation over time."
"What businesses and consumers need now is calm and decisive leadership, a clear timetable and a plan for negotiating the UK's future outside the EU to restore confidence."
---
---
Highlights of survey for July 2016
Retailers: All the percentages below are July 2016 vs. July 2015, unless otherwise stated:
– 24% said sales were up
– 38% said sales were down – which means an overall decline of -14% (24% minus 38%)
– an overall decline of -12% is predicted for August vs. August 2015
– 20% said sales were good for the time of year
– 27% reported poor sales for the time of year
– 9% placed more orders with suppliers
– 42% placed fewer orders with suppliers
– Orders with suppliers overall are forecast to decline by -24% in August vs. August 2015. This is the weakest expectation since September 2009.
– The following sub-sectors saw sales volumes decline: -30% grocers, -90% furniture/carpets.
– These sub-sectors posted sales increases: 52% non-specialised goods, footwear/leather 44%.
– Overall growth in online sales was 23%, which was less than June's 38%. The long-run average overall rate of growth before July was 48%. August growth is predicted to be about 29%.
Wholesalers:
– 20% posted rising sales volumes while 40% said theirs had declined. They expect volumes to fall overall by -24% in August vs. August 2015.
Motor Trades:
33% reported an increase in sales volumes, while 12% said they were down. An overall decline of -10% is forecast for August compared to August 2015.
Optimism Slumps
Earlier this week, the latest CBI Industrial Trends Survey reported that optimism among British manufacturers slumped to its lowest level since January 2009.
The 506 survey respondents said that manufacturing output and domestic orders had grown steadily over a three month period leading up to the Brexit vote. However, given that on 23rd June voters chose to leave the EU, industry leaders are certain that the next three months will see some considerable declines.
In other words, their pre-referendum optimism has transformed into post-referendum pessimism.
British manufacturers' expectations for total new orders growth are at their worst level since January 2012.
Employment in the UK industrial sector is expected to fall marginally, as is output growth.
Purchasing Managers Index plummets alarmingly
The latest Markit PMI (Purchasing Manager's Index) shows that economic activity in Britain has deteriorated significantly since the Brexit vote.
The Market PMI fell to 47.7 in July, a level not seen since April 2009. Any reading below 50 points to a slowdown.
The PMI tells us how healthy the manufacturing sector of a country is. It is based on five fundamental indicators: supplier deliveries, the employment environment, new orders, inventory levels and production.
Post Brexit economic and political turmoil
The economic impact of the Brexit vote was felt within seconds in the UK as the pound sterling crashed and investors in London ran for cover. Since then the stock market has recovered, while the pound still languishes 11% to 12% lower than before the vote to leave the EU.