Retail supply chains in the UK are set to change, according to a survey of retailers carried out following the Brexit vote to leave the European Union.
The new research from Barclays suggests the referendum has prompted many retailers to begin reviewing their supply chains.
The result could mean shoppers will be seeing the UK, plus Asian and African countries, featuring more often as places of origin on product labels.
The survey found 76 percent of respondents are planning to make their retail supply chains more efficient, 30 percent are thinking about changing suppliers, and 28 percent are considering sourcing from different countries.
Ian Gilmartin, Head of Retail & Wholesale at Barclays, says, " It's a mixed picture, but there are some encouraging findings in our post-Brexit survey."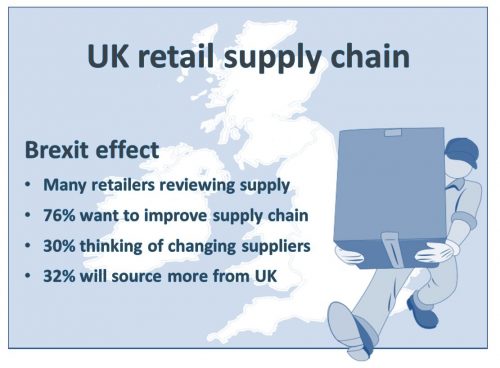 Three quarters of UK retailers in the survey are planning to improve the efficiency of their retail supply chains, while a third predict they will source more from the UK following the Brexit vote to leave the EU.
While only half (52 percent) of retailers said they did not feel prepared for Brexit, a slightly bigger proportion (56 percent) said either that Brexit was unlikely to affect them (41 percent), or would even have a positive impact on their retail supply chains (15 percent).
Also, most see any cost increases that result from the changes being absorbed by retailers – less than a third (31 percent) expect them to lead to price increases for consumers.
---
---
Far more retailers appear concerned about the pound and foreign exchange. 81 percent are expecting it to harm the industry, while 70 percent say they will seek ways to minimize risk (for instance with forward contracts that lock in today's exchange rate).
British economy could benefit
The potentially good news for the British economy is that a third of retailers (32 percent) expect to buy more from UK suppliers – only 12 percent said they expect to buy less.
Brexit has also increased interest in Asian and African countries. 52 percent of UK retailers said they expect their supply chains to be more active in India, with 43 percent saying the same about China. And 38 percent said they are likely to seek more supplies from Africa.
Supply chain activity in Europe, on the other hand, is likely to drop. 43 percent of retailers in the survey said they will likely source less from the region.
Gilmartin says retailers are thinking carefully about what they need to do in the wake of the Brexit vote – in particular which regions to source from and how to alter their foreign exchange strategy.
The really significant news," he notes, "is that a third of retailers surveyed intend to increase domestic supply chain activity."
---
---
Raised customer expectations set by online retailers
Barclays note that in a separate survey of retailers and consumers carried out before the Brexit vote, 78 percent of respondents said faster delivery times and more delivery options were key supply chain issues.
Large retailers will likely raise their game by increasing the average number of delivery options from today's seven to ten by 2019. Most customers (59 percent) want faster delivery, while 43 percent want Sunday delivery, and 37 percent want the option to pick a specific time slot.
Another significant consideration for retailers is the unpredictable nature of consumer demand – this was mentioned by 72 percent of respondents.
Demand unpredictability is also something that Henry Canitz, product marketing director at supply chain management software company Logility, predicts will challenge supply chain leaders this year.
And he confirms that raised customer expectations for availability and delivery options – as offered by Amazon and other online retailers – will press supply chain managers "to take stock in 2016, and understand their customers' expectations."