The UK FTSE 100 reached a 14-month high on Tuesday, closing 42 points, or 0.6%, higher at 6,851 – the highest level since June 2015.
The FTSE 250 Index of mid-caps rose 0.7 percent.
Despite the sharp falls following June's Brexit vote, the London blue chip index is currently up almost 10% since the beginning of the year.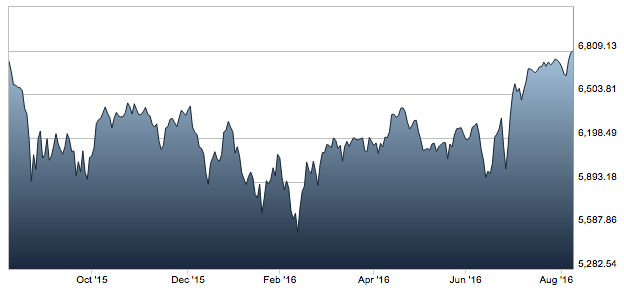 However, it should be noted that the sharp fall in the value of the pound sterling has affected the value of British shares in U.S. dollar terms.
The 42-point gain on Tuesday was led by a 6.8% jump in Standard Life – after it reported a 7.5% rise in its first-half dividend.
Best FTSE 100 performers on Tuesday:
Standard Life PLC – up 21.50 points (+6.75%)
Royal Bank of Scotland Group PLC – up 7.60 points (+4.11%)
TUI AG – up 36.50 points (+3.73%)
EasyJet PLC – up 37.00 points (+3.56%)
Standard Chartered PLC – up 18.80 points (+2.89%)
Worldpay Group PLC – up 7.60 points (+2.52%)
Smiths Group PLC – up 32.00 points (+2.48%)
Marks & Spencer Group PLC – up 8.00 points (+2.42%)
Barclays PLC – up 3.80 points (+2.41%)
Tesco PLC – up 3.50 points (+2.26%)
Worst FTSE 100 performers on Tuesday:
Legal & General Group PLC – down 12.10 points (-5.55%)
Carnival PLC – down 87.00 points (-2.37%)
Aviva PLC – down 4.50 points (-1.06%)
Antofagasta PLC – down 5.50 points (-1.04%)
Paddy Power Betfair PLC – down 55.00 points (-0.60%)
Travis Perkins PLC – down 7.00 points (-0.45%)
ITV PLC – down 0.80 points (-0.40%)
Direct Line Insurance Group PLC – down 1.50 points (-0.38%)
Barratt Developments PLC – down 1.50 points (-0.34%)