Up to 7,000 houses in the UK worth more than £1bn will be destroyed within the next 100 years due to rising seas, says a new, soon-to-be published Environment Agency report.
The Environment Agency's (Agency's) report has not been published yet, but was seen by the Guardian newspaper.
Based on current funding levels, the Agency predicts that more than 800 homes will be gone as coastlines erode over the next two decades.
The British coast is being steadily attacked by waves. Most scientists believe that climate change will push up the intensity and frequency of storms as well as raising the sea level.
No prevention measures will be taken to stop those properties from sliding into the sea, the Agency says, because it would be too expensive, i.e. stopping the destruction would cost much more than their £1bn estimated value.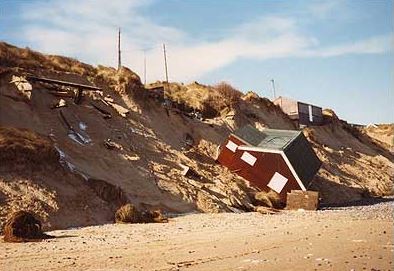 More than 800 properties are expected to meet the same fate as this one in Norfolk over the next two decades. (Photo: Pat Gowen)
Currently, there are no compensation schemes for homeowners whose properties are destroyed due to erosion. Insurance in the most highly-exposed homes is extremely difficult to obtain.
The National Trust informed that earlier this year the UK coastline suffered years' worth of erosion in a matter of hours following fierce winter storms.
The Trust warned that if extreme weather events occur more frequently, the rate of erosion at several sites across the country could be "breathtaking".
The intensity and frequency of storm waves battering the British coast are forecast to increase.
A tidal surge in Lowestoft in East Anglia flooded 1,400 homes and led to several properties falling into the sea.
Over the next century, six local authorities – Scarborough, East Riding, North Norfolk, Cornwall, Southampton and Great Yarmouth – are predicted to lose over 200 properties each to the sea.
Residents of vulnerable homes have set up groups and are campaigning for compensation if they are forced to leave their properties. So far, the government has resisted this call, which would immediately set a damages-claiming precedent for residents affected by coastal erosion.
The National Trust's all-in-one café, shop and information point at Birling Gap, East Sussex, receives 350,000 visitors each year. The cliffs are being eroded at 0.7 metres per year. The sun lounge is expected to fall into the sea within 12 years. (Photo: National Trust)
In an interview with the BBC, a spokesperson for the Environment Agency said:
"The recent announcement of £2.3bn investment over the next six years will see significant investment in coastal flood and erosion risk management, with 15,000 properties better protected from coastal erosion over the next six years."
"The Environment Agency uses a range of advanced techniques to monitor and assess the causes and impacts of coastal erosion. We work with local authorities, which lead on shoreline management plans, to identify erosion risk management schemes, coastal erosion monitoring and further research on how we best adapt to these changes."