Rolls-Royce announced that it is going to be making a luxury SUV.
The British automaker said in a statement that it will build "A car that offers the luxury of a Rolls-Royce in a vehicle that can cross any terrain."
The vehicle will be a "A high-bodied car with an all-new aluminum architecture."
Currently the company only produces three cars – the Phantom sedan, Wraith fastback, and Ghost.
There are no pictures of what the SUV will look like yet.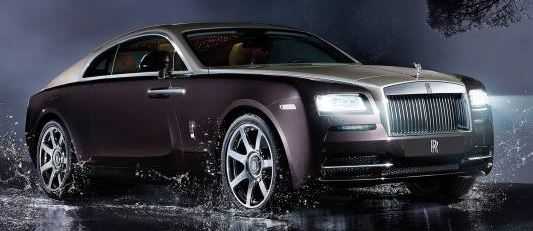 (Wraith) – Rolls Royce produces some of the most expensive cars in the world.
The decision to add a super high-end SUV to their lineup comes as its main rival Bentley announced it would be making its own SUV too, called the Bentavga.
In fact, the number of carmakers that don't produce SUV's is beginning to shrink, with exotic brands such as Lamborghini and Maserati working on one.
"This new Rolls-Royce will be Effortless …. Everywhere."
Chief Executive of Rolls-Royce Motor Cars, Torsten Mueller-Oetvoes said:
"I am proud to confirm that Rolls-Royce Motor Cars is developing an all-new, high-bodied Rolls-Royce designed to satisfy the contemporary, highly mobile lifestyles of our discerning clients around the world. I am confident that this new Rolls-Royce will fully deliver on our brand's promise of supreme luxury while at the same time being Effortless … Everywhere. The journey towards this all-new Rolls-Royce begins now and we will keep our customers, enthusiasts and media informed of our progress along the way."
Chairman of Rolls-Royce Motor Cars and Member of the Board of Management of BMW AG, Peter Schwarzenbauer said:
"The BMW Group stands proudly behind this announcement. The Group's continuous investment into the Rolls-Royce Motor Cars brand is paying considerable dividends. Rolls-Royce is the ultra-luxury cornerstone of the BMW Group's premium brand strategy and we will continue to strongly support Rolls-Royce Motor Cars as it moves, confidently, into this new phase in its development.