The ruble continued falling on Friday despite the Bank of Russia raising its benchmark interest rate from 8% to 9.5%.
The higher-than-expected rate rise announced by the central bank gave the ruble a respite of just a few minutes before it continued on its downward spiral.
So far this year, the Russian currency has depreciated against a basket of currencies by over 20%. The ruble is heading for its steepest one-year decline since 2009.
The rate hike had two aims: 1. To stop the ruble's persistent devaluation. 2. To rein in inflation, which now stands at 8.4%.
Russia's economy is battling falling oil prices and economic sanctions from the European Union, the United States, Canada, Japan, Australia and other allies.
The Central Bank now forecasts zero GDP growth for the fourth quarter, and does not expect much of an improvement in Q1 2015.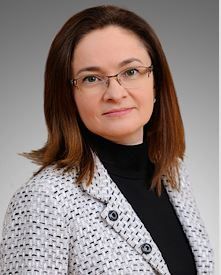 Elvira Nabiullina, Governor of the Bank of Russia, must address rising inflation and a falling currency. (Photo courtesy of the Bank of Russia)
The Bank of Russia wrote in a press release on Friday:
"External economic conditions have restraining effect on the Russian economy: oil prices see a significant decline while economic activity of most Russia's trading partners remains weak."
"However, exchange rate dynamics and restrictions on the import of certain food items support some industries. According to Bank of Russia estimates, economic growth rate in 2014 Q4 and 2015 Q1 will be close to zero."
The central bank says it sees the inflation rate remaining at its current level until the end of the first quarter next year because of the remaining sizable impact of import restrictions on certain foods, as well as the ruble's slide in Aug-Oct 2014.
Later on in 2015, it will expect the effects of external trade restrictions and the exchange rate dynamics to diminish, and that inflation will fall.
The Bank of Russia added:
"Slower consumer prices growth will also be facilitated by subdued aggregate demand with aggregate goods and services output remaining below the potential. However, inflation decline will be slower than previously expected. The Bank of Russia will continue to take measures aimed at stabilizing inflation expectations and slowing down consumer prices growth to the target in the medium term. Should the external conditions improve, and inflation and inflation expectation show a stable downward trend, the Bank of Russia will be ready to start monetary policy easing."