US consumer sentiment is the highest it has been since July 2007, which was five months before the global financial crisis hit, according to the Surveys of Consumers, published by the University of Michigan and Thomson Reuters.
The Index of Consumer Sentiment increased from 84.6 in September to 86.9 in October. Despite being at a 7-year record high, the authors of the survey pointed out that before the crisis the index frequently went above 90.
Rising employment and cheaper gas prices have encouraged consumers to dismiss concerns about a slowdown in the global economy, Ebola, or military conflicts.
According to the survey, consumer sentiment has improved for three consecutive months because of better personal finances and a more optimistic outlook for the American overall economy.
The authors expect the best holiday spending season in several years.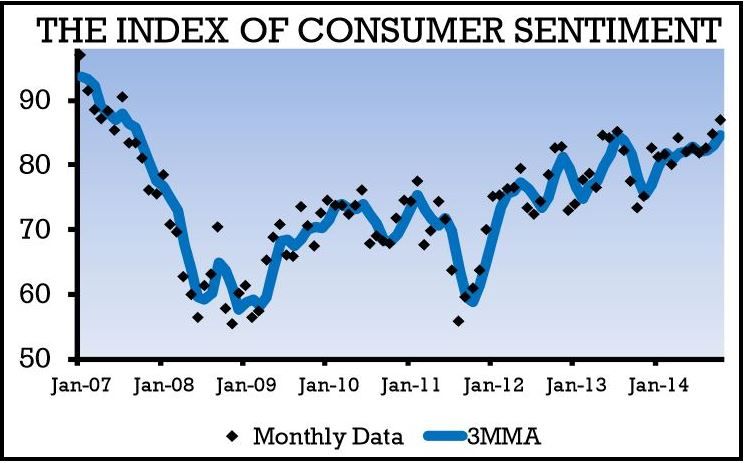 (Source: 'Surveys of Consumers', University of Michigan and Thomson Reuters)
Senior author Richard Curtin informed that almost six in every ten respondents said the economy had improved recently, the most positive rating in over a decade. Forty-five percent expect the next 12-months to bring 'good times' financially, compared to 28% one year ago.
The majority of consumers expect unemployment to continue falling because the economy is strong.
Both the September and October surveys found that more households expect their incomes to rise than at any time since September 2008.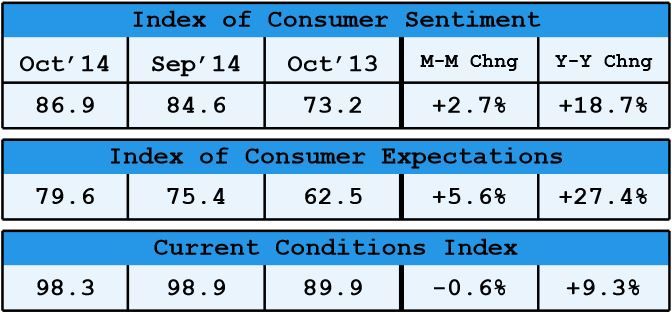 (Source: 'Surveys of Consumers', University of Michigan and Thomson Reuters)
On Tuesday, the Conference Board reported that its Consumer Confidence Index rebounded in October to 94.5 from September's 89. Its Present Situation Index climbed marginally to 93.7 in October from 93 in September, while its Expectations Index jumped steeply to 95 from 86.4 the month before.
Director of Economic Indicators at The Conference Board, Lynn Franco, said:
"Consumer confidence, which had declined in September, rebounded in October. A more favorable assessment of the current job market and business conditions contributed to the improvement in consumers' view of the present situation. Looking ahead, consumers have regained confidence in the short-term outlook for the economy and labor market, and are more optimistic about their future earnings potential. With the holiday season around the corner, this boost in confidence should be a welcome sign for retailers."