Canada's federal deficit plunged to $300 million in August from $2 billion in the same month in 2013, the Department of Finance's monthly Fiscal Monitor showed on Friday. Expense cuts of $1.6 billion more than offset August's decline in revenue.
According to the Department of Finance, the federal deficit for the first five months of this fiscal year, which starts in April, was $1.1 billion, versus $6.6 billion for the Apr-Aug period in 2013.
The government forecasts (also a target) that in 2015, an election year, it will have a surplus, i.e. the federal government will reach a point where its spending is lower than revenue.
Figures so far this year suggest the target will be met on time.
August tax revenues increased by $700 million, but corporate tax income declined by $1.2 billion.
Income from excise tax and duties increased by 14.3% ($500 million), which was mainly due to a $400 million rise in goods and services tax (GST) revenue.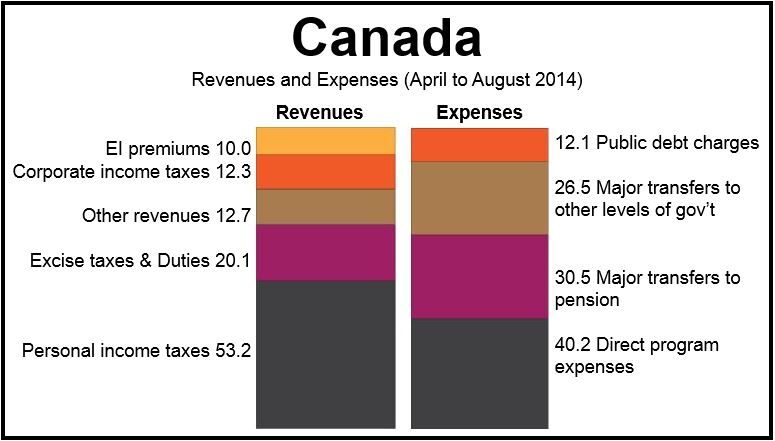 (Source: Department of Finance, Canada)
Employment insurance (EI) earnings rose by $100 million because workers were paid more.
Transfers to people, including children's benefits, EI and elderly payments grew by 2.4% ($100 million). Payments to other levels of government went up by $200 million.
For the April-August period, personal income taxes totaled $53.2 billion, compared $50.9 billion for the same period last year. Corporate income tax came in at $12.3 billion versus $11.4 billion in 2013.
Canada's economy shrank in August
On Friday, Statistics Canada surprised analysts when it informed that the country's economy shrank by -0.1% in August, after posting zero growth in July, +0.5% in June and +0.3% in May.
Economists, as well as the Bank of Canada, had expected August's GDP growth figure to come in at 0%, but not a contraction. The Canadian dollar fell on the news.
According to the Governor of the Bank of Canada, Stephen Poloz, sluggish business investment and weak exports are bearing down on growth. Analysts believe exports will pick up later on this year as the US economy, Canada's biggest foreign market, accelerates.