The Russian ruble continued its decline on Wednesday against the US$ but gained against the euro, Russian shares dropped for the second day running.
In early trading in Eastern Europe the ruble fell 0.17% against the dollar at 39.97, but appreciated by 0.2% against the euro to 50.5, leaving the Russian currency unchanged against the dollar-euro basket, which the Central Bank of Russia uses to measure the ruble's nominal exchange rate.
The Central Bank of Russia spent $980 million on Friday and $420 million on Monday in its attempt to stem the ruble's slide.
Russia's central bank has moved the ruble's floating corridor by 5 kopecks, to 35.65-44.65, which means it is likely to intervene more often and more aggressively.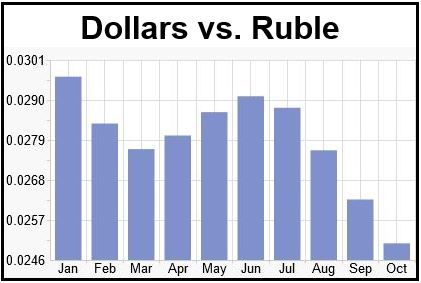 The Ruble has fallen considerably since June (Source: X-Rates)
Russia is facing some heavy negative headwinds. Its main earner of hard currency, oil exports, are suffering with Brent falling further to $91.20 on Wednesday. A hard currency is a currency people trust because they expect it to maintain its value, or even appreciate – examples include the American dollar, British pound, Japanese Yen or Swiss franc.
Economic sanctions against some prominent Russians and key companies by the US, EU, Japan, Australia and other allies for its alleged support for the separatist rebels in Ukraine have undermined business confidence, sparked rampant capital flight, and left many businesses without access to loans in the open market.
Poor German economic figures plus an IMF downgrade of world GDP growth for 2014 and 2015 have weighed down on all stock exchanges worldwide.
The RTS stock index, a dollar-denominated free-float capitalization-weighted index of 50 Russian stocks traded on the Moscow Exchange, fell 0.8% to 1,098 points. The ruble-denominated MICEX dropped by 0.8% at 1,393.
Inflation
A devaluing currency pushes up prices within a country because imported goods become more expensive. Russia, which already has a growing inflation problem, will soon be facing more severe price pressure.
In September, inflation reached a three-year high of 8% (annualized), following Mr. Putin's ban on foods and agricultural products from the US and EU.
Debts
Fewer investors are now interested in buying Russian debt. It failed in its attempt sell 10 billion rubles of Russian government debt on Wednesday, managing to raise only 4.5 billion ($112 million).
The central bank's interventions so far have done nothing to stem the ruble's slide. Analysts in Moscow believe more than $30 billion will be spent in the currency market by the end of 2014.
Demand for hard currencies, namely euros and dollars, will grow during the next few months. Russian firms have to contend with $54.9 billion of debt repayments by the end of this year.
The declining ruble is damaging the sales and profits of several Western European companies, including Carlsberg, Peugeot Citroen, and Henkel, whose operations are also suffering from Russia's weak economy.
Companies that have bet heavily on Russia are now finding it more expensive to import supplies and parts into their factories within the country, which means they have to raise prices, which in turn reduce demand.