Vladimir Putin, Russia's President, announced the launch of a fund aimed at boosting domestic production and reducing the country's dependence on Western imports. Russia will reduce its reliance on energy exports and will encourage activities in local banking, industries and human resource development, he added at the Economic Forum at St. Petersburg, which this year is dedicated to "Sustaining Confidence in a World Undergoing Transformation".
Russia relies on foreign imports and financing for much of its oil and gas exploration.
Experts in Western Europe and North America believe Putin is attempting to persuade international investors that his country is able to make it alone.
The Russian economy can no longer be driven almost entirely by energy exports, Putin acknowledged, as he outlined a strategy of structural reforms, concentrating on huge infrastructure projects, regulatory and financial support by the state, and the enhancement of human capital.
Encouraging non-energy exports
Putin says the Kremlin's plan will result in non-energy exports increasing by 6% annually, the gradual substitution of imported products with domestic goods, and increased investments in modernization projects.
Mr. Putin said:
"I will also send to parliament a package of bills aiming to ease procedures for registration of companies, getting licenses, customs procedures – all initially expected to pass in 2018 – by the end of this year."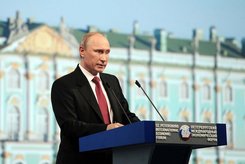 Investors jittery over sanctions
Putin tried to reassure global investors and business leaders who have become nervous over the US- and EU-led economic sanctions, to carry on doing business in Russia.
At the St. Petersburg gathering, which saw a severely reduced showing by US executives this year, Putin said:
"Think of the benefits of working in Russia, don't give in to pressure and blackmail, and we will help you."
Regarding the Ukraine crisis, which has triggered a series of sanctions from the US and its allies, Putin says he is optimistic. He said he would recognize the new leadership in Kiev following today's presidential elections, as long as the military action in Ukraine's pro-Russian eastern provinces is halted.
He downplayed whatever the effects of economic sanctions on his country's economy might be, emphasizing that they have mainly targeted his inner-circle of personal friends, who he says have been smart enough to bring their assets home in good time.
The BBC quoted Orysia Lutsevych, a research fellow at Chatham House, who said "Russia is trying to assert itself as an independent player. (Putin) really wants to assert himself in the neighborhood and he has to think about economic stability."
Russia's economy in trouble
Since the middle of 2013, economic data coming out of Russia have been increasingly bleak.
In the second half of April, Standard & Poor's (S&P) reduced Russia credit rating from BBB to BBB-. According to S&P "In our view, the tense geopolitical situation between Russia and Ukraine could see additional significant outflows of both foreign and domestic capital from the Russian economy." The agency warned Russia's rating could be further lowered if the US and its allies impose more sanctions.
Also in April, Anton Siluanov, Russia's Finance Minister, warned that his country could be facing zero growth this year. He was quoted as saying that Russia "is facing the most difficult conditions since the 2008 crisis."
Siluanov confirmed that up to $63 billion could have been withdrawn from Russia by investors in Q1 2014. The International Monetary Fund says capital flight has become a serious and growing problem for the Russian economy.
Giant Russian-Chinese natural gas deal
In what could be the first step towards Putin's dream of less reliance on Western Europe, he witnessed the signing of a $400 billion, 30-year natural gas deal with China. Details on how much China will be paying for the gas were not disclosed.
Experts believe China got a knock-down price, given Russia's current political and economic isolation.
Mr. Putin described the contract as an historic event for his country's gas sector. He said "I want to stress that there was hard work done on the expert level. Our Chinese friends are difficult, hard negotiators."
Video – Putin answers questions at St. Petersburg