A Ukraine gas deadline for June 2nd has been imposed by Russian gas giant Gazprom. If Ukraine does not pay up in advance, natural gas supplies will be halted the following day.
Alexey Miller, CEO of Gazprom, said Ukraine has accumulated such high outstanding debts that the company has no choice but to take this measure.
According to Russia new agency Interfax, "Ukaine will receive zero cubic meters in June," if no payment is made by the deadline. It added that Russian Prime Minister Dmitry Anatolyevich Medvedev said "Ukraine able to pay off gas debt before end of May."
Why not use IMF bailout money, Russia asks?
After a meeting with Medvedev, Mr. Miller said Ukraine has to pay in advance for any deliveries made in June because of outstanding debts of $3.51 billion. He publicly wondered why Ukraine is refusing to use the IMF bailout money to pay its debts with Gazprom.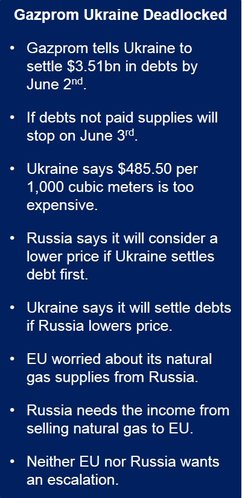 According to Mr. Miller, Ukraine has not paid for 9.42 billion cubic meters of Russian natural gas, which is about as much as Poland buys from Gazprom in a whole year.
Mr. Miller said "According to our information, Ukraine has received money from the first IMF tranche," he said.
On Russian TV, Medvedev said that his country was no longer able to "nanny" Ukraine. During his meeting with Miller, Medvedev said:
"It's time to stop coddling them, notify them tomorrow and move to pre-payments. I think that all possible ways to settle this situation using other measures were undertaken by Gazprom."
Russian public opinion is that without a Ukraine gas deadline, the debt will just continue to increase.
Gazprom natural gas price unfair
Ukraine, which depends on Russia for half its natural gas supplies, says it is not fair that Gazprom has arbitrarily doubled the price it charges for gas supplies to Ukraine.
As soon as Russia lowers its price Kiev is willing to cover its outstanding debt with Gazprom, Ukraine's Finance Minister Oleksandr Shlapak said earlier today.
In order to cover its natural gas arrears, Ukraine is prepared to issue bonds to the value of $2.16 billion, Shlapak added.
Shlapak says Gazprom should carry on with the old price of $268 per 1,000 cubic meters until the end of 2014 if it wants Ukraine to cover the debt.
Ukraine has to pay $485.50 per 1,000 cubic meters, a much higher price than any other European country has to pay.
Ukraine's energy company, NAK Naftogaz Ukrainy, will be seeking arbitration on May 28th if no deal can be reached with Gazprom. Russia says it will only consider renegotiation of energy prices when Ukraine settle's its debts for previous supplies, Anatoly Yanovsky, the Russian Deputy Energy Minister said today.
Yanovsky added that the transit of natural gas destined for Gazprom's EU customers could be at risk if no settlement is made, especially if Ukraine is unable to fill its underground storage facilities.
Are European natural gas supplies under threat again?
Approximately 15% of all natural gas consumed in Europe comes from Russia via Ukraine. There is concern both in Russia and among its European customers that if Ukraine's natural gas supplies are cut off, it may take some that goes through the Ukraine pipeline for its own consumption. This happened in 2006 and 2009 during previous disputes.
Slovakia has agreed to reuse a dead pipeline which will allow natural gas from Central Europe to get to the Ukraine. According to experts, this would not threaten any deals made with Gazprom regarding reversing the flow of natural gas.
Neither Europe nor Russia want an energy standoff
After a relatively mild winter, Europe is in a good position to accumulate energy reserves before next winter.
The EU today has the ability to switch to supplies from Algeria and Norway. There are also several alternative pipeline routes now from Russia that bypass Ukraine.
Whether Norway and/or Algeria have the means to suddenly increase production is another matter. The EU is a massive area, switching its purchases from Russia to elsewhere would mean an enormous amount of gas.
Russia needs the $100 million per day it earns from its EU energy sales, they represent 3% of the country's economic output. To be seen as an unreliable energy supplier by the European Union would not be in Russia's best interests.
The energy shock of 2009 had European nations searching around for a wider selection of energy suppliers. In 2009, Europe depended on Russia for 45% of its natural gas supplies, compared to 30% in 2014.
If supplies dry up again, the EU will definitely taper down its dependence on Russian natural gas completely, which would mean the end of a much-needed hard currency income.
Video – Gazprom Ukraine gas deadline