Nissan profits increased 10 percent to ¥389 billion ($3.8 billion) in the year to end-March 2014. The second largest carmaker in Japan says a weaker yen, a 20% jump in sales to ¥10.48 trillion, and cost-cutting contributed to its profit increase.
Nissan Motor Co. reported that its quarterly January-to-March profit rose to ¥114.9 billion yen ($1.1 billion), up from ¥109.7 billion ($1.08 billion) in the same quarter last year. Quarterly sales increased to ¥3.2 trillion ($31 billion), a rise of over 20%.
Sales growth is outpacing the industry, the company added. Nissan says it expects continued growth for this fiscal year, which started on April 1st, 2014. Both its annual and quarterly profits were better than the company had forecast.
Slower growth in 2014
A weaker yen has helped Nissan, Toyota, and other Japanese exporters. However, growth for 2014 is not expected to be as strong, Nissan warned.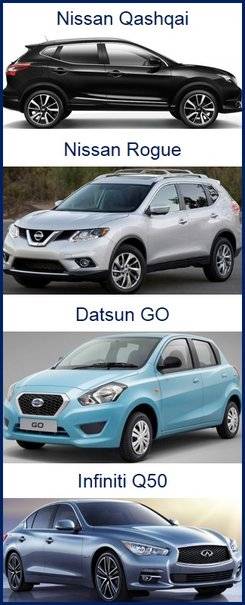 Nissan sold 5.2 million vehicles globally during the latest fiscal year, gaining a 6.2% share of the worldwide auto market.
Sales in China were especially strong, increasing by 17% to 1.27 million vehicles over the 12-month period. Sales in the US rose 12% to 1.29 million vehicles. April 2014 sales in Europe increased by 16.7% compared to April 2013, with business especially strong in the UK and Russia.
According to Carlos Ghosn, President and Chief Executive Officer, the company is accelerating measures to meet its mid-term goals (Nissan Power 88); it is committed to an 8% operating profit by the end of the 2016 fiscal year and an 8% global market share.
Ghosn said:
"Nissan generated solid results in fiscal year 2013. Nissan's performance will improve further in 2014. We are taking determined steps to reach our Power 88 goals including greater focus on market-by-market execution, ramping up newly installed manufacturing capacity and strengthening our brand power."
New vehicles set to increase sales
Between March 2013 and March 2014, Nissan launched 10 new vehicles and unveiled 22 new technologies, the company announced today. The all-electric Nissan LEAF, the best-selling zero-emission automobile worldwide, saw sales surge to 110,000 units.
Nissan says it will launch an autonomous drive vehicle by the end of this decade.
Business activities and deeper co-operation converged last month with Renault in four key areas:
Manufacturing & logistics
This latest alliance forms part of the two companies' commitment to raise annualized synergies to at least €4.3 billion by 2016.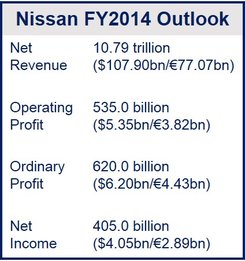 Mr. Ghosn added "Taken together, these actions will enable Nissan to reach its goals during the second half of our six-year Power 88 plan."
Nissan's 2014 fiscal outlook
Although the yen fell from ¥80 per dollar to ¥100 per dollar during the fiscal year, the same rate of currency devaluation is not predicted for the coming twelve months.
Nissan says it expects volumes to increase 8.9% to 5.56 million units (6.7% market share) as new plant capacity in Brazil and Mexico comes on stream, while benefiting from a full-year sales of its new models, such as the Infiniti Q50, Datsun GO, Nissan Qashqai and Rogue.
Last week, Toyota said its profits for the year ending in March 2014 nearly doubled to ¥1.82 trillion ($17.8 billion) compared to ¥962 billion in the previous year.