Russian import ban farmers are being compensated with €125 million ($170 million), the European Commission announced today. Russia said earlier this month that it would impose a ban on certain agricultural imports in a tit-for-tat move against the US, European Union and other allies.
EU Agriculture and Rural Development Commissioner, Dacian Cioloș said the Commission is activating CAP emergency measures which will reduce overall supply of a number of fruit and vegetable products in the EU market, as and when price pressures in the coming months become too great.
"All farmers of the concerned products – whether in producer organizations or not – will be eligible to take up these market support measures where they see fit. Acting early will provide an efficient support to the price paid to producers on the internal market, help the market adjust and be cost effective."
Unsold produce to be distributed free
The money is compensation for fresh fruit and vegetables which will not be sold. It will be distributed free of charge to hospitals, schools and other institutions.
The Commission quoted German Chancellor Angela Merket who emphasized on Monday in Latvia, an EU member with a large ethnic Russian minority, that EU sanctions must remain in place "in order to show how serious we are (about the Ukraine crisis)".
Latvia's neighbor, Lithuania, has been hit especially hard by the Russian import ban.
The compensation covers affected growers of the following produce:
Tomatoes,
carrots,
white cabbage,
peppers,
cauliflowers,
cucumbers and gherkins,
mushrooms,
apples,
pears,
red fruits,
table grapes, and
kiwis.
These perishable products are in full season, they cannot be stored and no alternative market can be found at such short notice.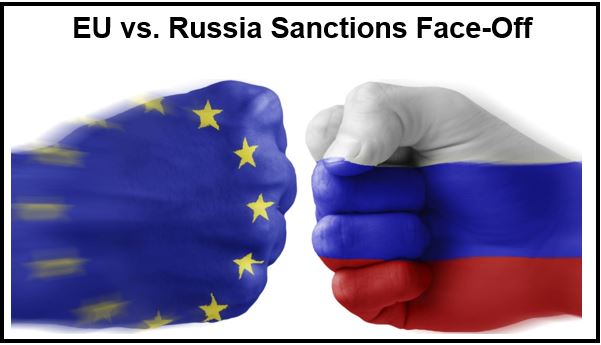 Russia says it will ban cars next if the EU imposes further sanctions.
The European Commission announced in a press release:
"The ongoing market situation for all products will be discussed in another meeting with Member State experts and experts from the European Parliament scheduled to take place in Brussels on Friday."
"The European Commission will continue following markets development for all the sectors affected by the Russian ban on agriculture and food products in close contacts with Member States and will not hesitate to support further sectors heavily dependent on exports to Russia or to adapt the measures already announced, if necessary."
Prices down in EU

The Russian ban has already triggered a fall in the price of some agricultural products in the EU, as farmers struggle to seek out other markets to replace their largest non-EU client country.
In 2013, the European Union exported €8.8 billion ($11.79 billion) in agricultural produce to Russia, according to the EU's statistical agency, Eurostat.
Prices up in Russia
In Russia, which already has a high-inflation problem, the ban has caused further domestic food price rises. Many economists were baffled at Russia's bizarre tit-for-tat move, which they say will ultimately achieve very little apart from harming Russian consumers. Much of Russian consumers' weekly food basked is covered by imports.
According to Russian newspaper Vedemosti, prices for some food products in Moscow rose during the weekend, the Mayor's office reported.
Price hikes (just for the weekend) quoted were as follows:
Beef: +0.6%,
cheap frozen fish: nearly +6%,
cheese (average): +4.4%,
potatoes: +1.6%,
milk: +5.3%.
In order to damp down food price hikes, Russia says it will now allow imports from neighboring Kazakhstan and Belarus.
The Moscow Times quoted Deputy Prime Minister Arkady Dvorkovich, who said:
"Our Customs Union colleagues can win in this situation because some products, which were previously coming to us directly, will be processed there."
Russia, Belarus and Kazakhstan set up a duty-free Customs Union earlier this year.
On Monday, Russian Prime Minister Dmitry Medvedev expressed hope the food import ban will be short-lived.
Video – Farmers compensated for Russian import ban