Sir John Sawers, who recently retired as head of MI6, Britain's Secret Intelligence Service, said we should not deceive ourselves that Russia is on a path to democracy. The country presents a "state-to-state threat", he warned in a BBC Radio 4 Today programme.
Ian Fleming's fictional character, James Bond (code number 007), was an intelligence officer for MI6.
Sir John, who expressed disappointment in how Europe's and Russia's path failed to converge following the Cold War, said that the only way the UK could improve relations with the Kremlin is by increasing dialogue.
Sir John, explained that Russia had always been an "issue of concern" for western security agencies, and added:
"We shouldn't kid ourselves that Russia is on a path to democracy because it isn't. One of the aspects of the modern world is that we live in a much more dangerous world these days."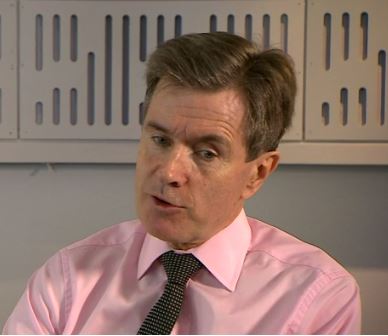 We need to increase spending on defence and talk to the Russians more, Sir John said.
Regarding the Ukrainian conflict, where more than 5,000 people have been killed so far, Sir John said we need to find a way of living with a Russia that feels vulnerable and exposed.
He explained that what Putin is doing are the actions of a leader who has become preoccupied with his own security.
Sir John, who headed MI6 from November 2009 to November 2014, repeated that only through talking with the Russians can the West bring the country back into the fold.
"We need to be able to address this through increased dialogue," he said.
Russia has become a danger to Britain and the country must be prepared to take steps to defend itself and its allies, the former head of MI6 says.
Sir John's words today came not long after the assassination in Moscow of opposition politician Boris Nemtsov, who died of four bullet wounds in the back while crossing a bridge near the Kremlin. Mr. Nemtsov had tweeted that he feared for his life.
More defence spending
Russia today has become a danger to the UK, Sir John said. Dealing with the threat means the country has to spend more on defence.
Vladimir Putin has become extremely concerned about Russia's exposure, says Sir John.
He added however, that the threat was "not necessarily directly to the UK but to countries around its periphery. (Russia) keeps on reminding us that they have nuclear weapons. The one level in which Russia and America are equals is at the nuclear level."
"Now we don't want to have a repeat of the Cuban missile crisis in 1962 where we got to the brink of nuclear war."
The Government is under growing pressure from Tory backbenchers and the military to commit the country to meeting a NATO target of spending at least 2% of GDP on defence after 2016.
Chancellor George Osborne promised to turn the giant budget deficit into a surplus by 2018. Raising expenditure on defence seems unlikely.
Sir John Sawers' Career
Before MI6, Sir John was the British Permanent Representative to the United Nations from August 2007 to November 2009.
He joined the Foreign and Commonwealth office in 1977, and worked in Syria and Yemen on behalf of MI6 in his early career. In 1982, he became Political Officer in Damascus, and then took up a role of Desk Officer in the European Union Department in 1984.
In 1986, he was Private Secretary to the Minister of State.
From 1988 to 1991, Sir John was based in Pretoria and then Cape town, during the first part of the country's transition from apartheid.
In 1991, he returned to the Foreign & Commonwealth Office and yet again took up the roles of Head of European Union Presidency Planning Unit and Principal Private Secretary to Douglas Hurd (Foreign Secretary) in 1993. During this period, there was a war in Bosnia, several crises in the Middle East, and a debate on Britain on the EU.
From 1995 to 1998 he was in the United States, initially as an International Fellow at Harvard University, and then as head of the Foreign and Defence Policy team at the British Embassy in Washington D.C.
He was Foreign Affairs Adviser to Tony Blair (Prime Minister) from 1999 to 2001. He was closely involved in the Northern Ireland peace process and the implementation of the Good Friday Agreement.
From 2001 to 2003, he was Ambassador to Egypt.
In August 2003, Sir John became Director General for Political Affairs at the Foreign and Commonwealth Office, where he advised the Foreign Secretary on security and political issues globally and negotiated on behalf of the Foreign Secretary with international partners at the United Nations, G8 and EU. He was particularly closely involved in policy on the Balkans, Afghanistan and Iraq. He headed a British team in the EU-3 negotiations over Iran's nuclear program in 2006.