Ryanair Ltd. has raised its full-year traffic guidance to more than 90 million customers from 89 million, and increased its full-year after-tax profit guidance to a €810m-to-€830m range from its previous €770m-to-€750m.
The Dubling-based budget airline said its "Always Getting Better" customer programme delivered a better-than-expected November performance.
While seating capacity in November 2014 is 13% greater than in November 2013, the carrier's November load factor increased by seven percentage points from 81% last year to its current 88%.
It has materially exceeded its first (winter) month load factor targets across several city pair markets where it is offering flights in direct competition to the longer established, more expensive airlines.
In Poland, its Warsaw (Modlin) to Gdansk (twice daily) and Wroclaw (2) had a first month load factor of 82%.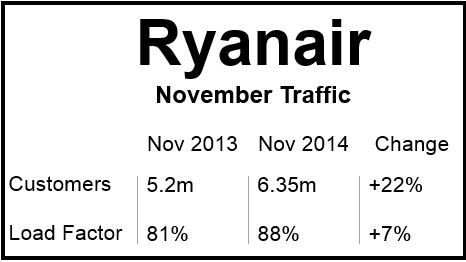 Source: Ryanair Ltd.
In the paired city flights where it competes directly with EasyJet, the first month load factor was 88%.
Kenny Jacobs, Ryanair's Chief Marketing Officer, said:
"Ryanair traffic grew by 22% to 6.35m customers in November, while our load factor rose by 7% points to 88%, thanks to our lower fares, our stronger forward booking strategy and the continuing success of our "Always Getting Better" customer programme, which delivered better than expected load factors in the first month of our significantly expanded winter schedule."
"With our new routes, increased frequencies and Business Plus service, Ryanair continues to deliver so much more than just the lowest fares in every market we operate in."