An international team of researchers assessed the safety of graphene and related materials. The Graphene Flagship has a dedicated Work Package that is studying graphene's and related materials' impact. Specifically, their impact on human health and the environment. This enables 'safety by design' to become an integral part of innovation.
The researchers wrote about their study and findings in the journal ACS Nano (citation below).
The drive to commercialize graphene continues apace. It is crucial that every safety aspect is thoroughly researched and understood. Companies and researchers today are using a range of materials, including graphene and graphene oxide. They are also using heterostructures.
To assess the toxicology of graphene and related materials we first need to characterize them fully.
Regarding the research team's work, the Graphene Flagship made the following comment in a press release:
"This work overviews the production and characterization methods, and considers different materials, which biological effects depend on their inherent properties."
Flagship assessed properties and biological effects
Lead author, Prof. Bengt Fadeel, from the Karolinska Institute in Sweden, a Graphene Flagship partner, said:
"One of the key messages is that this family of materials has varying properties, thus displaying varying biological effects."
"It is important to emphasize the need not only for a systematic analysis of well-characterized graphene-based materials but also the importance of using standardized in vitro or in vivo assays for the safety assessment."
Co-author, Prof. Alberto Bianco, from CNRS in France, also a Graphene Flagship partner, said:
"This review correlates the physicochemical characteristics of graphene and related materials to the biological effects."
"A classification based on lateral dimensions, number of layers and carbon-to-oxygen ratio allow us to describe the parameters that can alter graphene's toxicology. This can orient future development and use of these materials."
Prof. Bianco is also Deputy Leader of the Graphene Flagship Work Package (Health and Environment).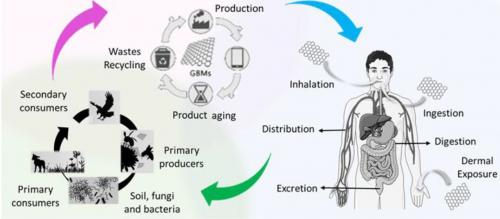 A comprehensive review
The authors provided a comprehensive review of every aspect of the health and environmental impact of graphene. They focused on the potential interactions of graphene and related materials.
Their key targets were the human skin, organs, immune system, cardiovascular system, and central nervous system. They also looked for possible effects on the reproductive and gastrointestinal systems.
Additionally, the study covered algae, bacteria, plants, vertebrates, and invertebrates in several different ecosystems.
Prof. Fadeel said:
"One cannot draw conclusions from previous work on other carbon-based materials such as carbon nanotubes and extrapolate to graphene. Graphene-based materials are less cytotoxic when compared to carbon nanotubes, and graphene oxide is readily degradable by cells of the immune system."
The Graphene Flagships Science and Technology Officer, Andrea C. Ferrari, added:
"Understanding any potential Health and Environmental impacts of graphene and related materials has been at the core of all Graphene Flagship activities since day one."
"This review provides a solid guide for the safe use of these materials, a key step towards their widespread utilization as targeted by our innovation and technology roadmap."
Dr. Ferrari is also Chair of the Flagship's Management Panel.
What is graphene?
Scientists say that graphene is the first truly two-dimensional material we know of. It has the thickness of just one atom.
Even though it is incredibly light, it is super tough. It is the strongest material on Earth – 200 times stronger than steel.
Graphene is also the world's best conductor of heat and electricity. Nothing can pass through it, not even helium – it is the perfect barrier.
Not only is it tough and hard, but also surprisingly flexible. This is very unusual for tough and hard materials.
Citation
"Safety Assessment of Graphene-Based Materials: Focus on Human Health and the Environment,"
Bengt Fadeel, Cyrill Bussy, Sonia Merino, Ester Vázquez, Emmanuel Flahaut, Florence Mouchet, Lauris Evariste, Laury Gauthier, Antti J. Koivisto, Ulla Vogel, Cristina Martín, Lucia G. Delogu, Tina Buerki-Thurnherr, Peter Wick, Didier Beloin-Saint-Pierre, Roland Hischier, Marco Pelin, Fabio Candotto Carniel, Mauro Tretiach, Fabrizia Cesca, Fabio Benfenati, Denis Scaini, Laura Ballerini, Kostas Kostarelos, Maurizio Prato, and Alberto Bianco. ACS Nano 2018, 12 (11), pp 10582–10620. DOI: 10.1021/acsnano.8b04758.
Video – Graphene